We all like to look to the future, but at this time of year it's also good to take a moment to reflect and review the past 12 months. What you have achieved, lessons you have learnt and most importantly the new relationships that you've made. With so many things happening over the course of a year it is sometimes difficult to highlight individual noteworthy moments, but we hope to summarise some key moments from our 2018 in this article.
A Huge Thank You To Start With!
If it wasn't for our customers who fuel our innovation and learning, we wouldn't be the progressive company we are today. Through your manufacturing experiences and testing in our global facilities over the years, we have gained knowledge and experience from working together to solve your powder handling problems. Through patented technologies and an exceptional team of engineers, designers and technicians, we are able to develop and implement more efficient processes with innovative equipment to improve powder handling practices, across a wide variety of industries.
Thank you to all our agents and suppliers across the globe. We pride ourselves on how we help our customers and with your support, we can continue to push the boundaries of manufacturing systems and process creation.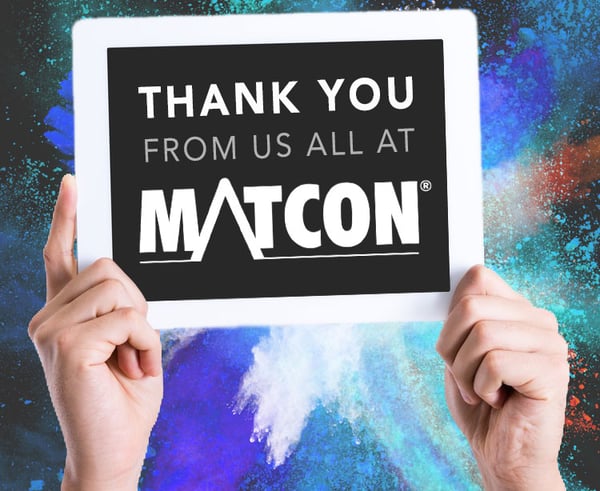 Welcome To Matcon
This year we have welcomed many new members to the Matcon team:
Graduate Design Engineer,

Alex Manson

who joined our Design & Production Development Team.

Shambrae Starr,

who brings further sales and manufacturing experience to the Americas team.
All new team members have been the perfect addition to our team.
Meet The Team
We are proud to supply some of the largest, most famous household brands and small manufacturers across the globe. To support each region, Matcon has offices across Europe, USA, China, Singapore and India.
Recently published blogs introduced some of the existing Matcon team based at our offices around the globe:
Our Service Account Managers are always on hand to provide our existing customers with technical advice and support ensuring that they continue to get the most from their equipment. This year they have been on-site with customers and on hand at exhibitions to answer product related questions, ensuring Matcon customers stay one step ahead of their competition.
Our Matcon Americas team have provided a local presence for over 30 years, attending to the needs of the market across North and South America. With a state-of-the-art test facility in Delran, New Jersey, our Matcon Americas are committed to providing a customer experience that sustains long-term partnerships with our clients.
Our global reach and local presence extends to India, where our team of powder handling experts have worked with local organisations to implement over 30 production lines that use Matcon systems. Each member of the team is on hand and available to support our customers and emerging contacts with systems advice, testing, production and after-sales.
The 2018 Events Calendar

Thank you to all who visited our stands, watched our demos and listened to our presentations. Tell us; What was your favourite show and why? (let us know in our comments section below this blog) Particular highlights for us were:
'

Anuga FoodTec

', a 50,000-visitor event covering the entire spectrum of global food production from processing to packing.

Achema 2018

the 'world forum for the chemical engineering and process industry' exhibiting alongside our

IDEX Material Processing Technologies

(MPT) colleagues from Quadro, Fitzpatrick and Microfluidics.

The Matcon '

Allergens Open Days

', in February and October have now become regular calendar events due to their popularity. At each open day we gave a demonstration of our on-site testing facility and hosted presentations from some of our leading industry partners;

Neogen, SciMed

and

Adele Adams Associates Ltd.

Our guests were keen to ask questions, discuss their challenges and discover practical methods to effectively manage the risks associated with allergen handling.
Looking ahead, 2019 is already shaping up to be a busy year of events and exhibitions and we hope to see you all again next year.
Customer Knowledge Base and Resources
We continually update our website to better serve you. Designed to be an online resource for all thing's powders handling, the Matcon website has proved popular since its launch last year. Building on that success we've added a number of new resources. These cover blending, pharmaceutical and sports nutrition manufacturing, intended as definitive guides in these areas and packed with information, from achieving process efficiency, solving powder handling problems, diversifying production through to the latest innovations in equipment.

This year we launched an entirely new website section titled 'Powder Handling Problems Solved'. These pages address your typical and specific powder handling problems. If there's not a solution to your current issue, please help let us know so we can add it to the resource, which will in turn help others who are experiencing the same issue.
With our new website came a new blog which has proved to be very popular. In 2018 we've added even more information complete with a new way to access this content. The blog now has topic filters and an 'at a glance' magazine layout.
Finally, our team have also been busy adding new guides, resources, case studies and downloads in our knowledge hub.
Giving Back

Our community work this year has seen us volunteer with charities in the local area. From helping to create and maintain safe play areas, to the Summer 'Holiday Hunger' campaign, members of the Matcon team prepared and cooked over 3,000 meals and gave more than 120 hours of volunteering time.
We also supported International Women's Day #PressForProgress campaign with a 'show and tell' presentation, awareness lunches and by making pledges that show how we will work to drive forward gender parity in the future.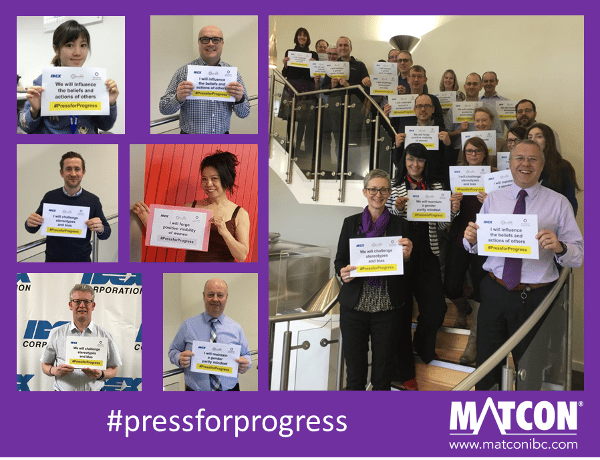 Looking Forward
2019 is set to be an exciting year. We have an imminent product launch with innovative equipment that will help manufacturers across our supported industries. We will have a packed calendar of events planned which we look forward to sharing in the New Year along with new industry specific help articles and even more resources to share with the manufacturing community.
We look forward to joining you all in a very happy and productive 2019.