As 2019 draws to a close and we look back over the last 12 months, a lot has happened at Matcon, from solving powder handling challenges to new innovations with the launch of Liquid Addition during blending. In this blog, we've compiled some of this year's highlights, including customer's feedback, our latest equipment additions, exhibition summary, test plant experiences and more in the mix.
Thank you to Our Customer's for Sharing Their Knowledge and Experiences
One of our continued highlights is sharing the success stories of our customers. In January, we were pleased to share the story of how Nutraceutical Manufacturer, Rain Nutrience were able to increase their production output without the need for additional factory space.
Find out how Rain Nutrience and Matcon worked together to bring their manufacturing in-house, reduce manual handling, increase recipe variation and daily batch changeovers.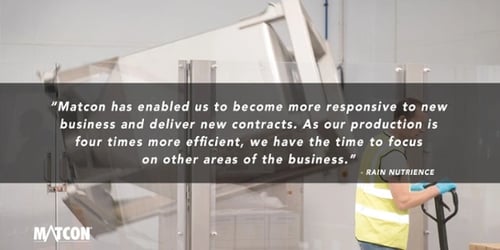 Supporting the Animal Nutrition Industry
The story of F. J. Wegon - a Global Animal Nutrition Manufacturer was another highlight where a completely new system was designed and installed to address the production issues they were facing, improve their facility layout and support their aspirations for future growth.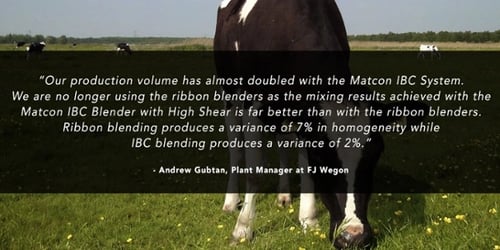 You can read more about how they increased their capacity and capability to deliver tailored orders quickly and efficiently here.
Showcasing the Launch of Matcon's Liquid Addition Equipment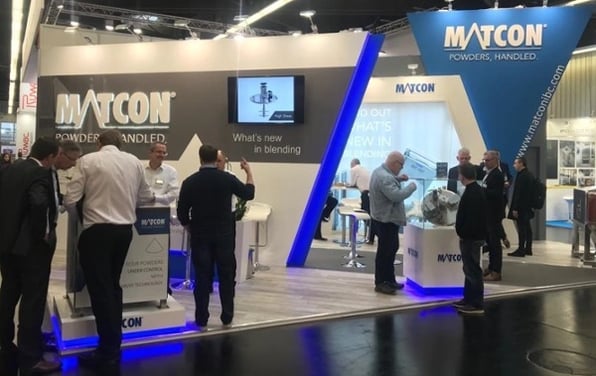 Known as "the world's undisputed number one event for powder, granule and bulk solids technologies" Powtech provided Matcon with the perfect platform to present the latest innovations in powder handling equipment - Liquid Addition during blending.
'Liquid Addition' - a game changing addition to our IBC line-up, that, as the name suggests, enables the successful addition of liquids to powder based mixes during the blending process.
Invented and developed by Matcon, our innovative Liquid Addition System expands the capabilities of the IBC tumble blender. It is well suited to industries that need the flexibility to add liquids into a wide range of powder recipe mixes, in a contained and efficient way. The system works by automatically injecting one controlled liquid 'shot' per rotation directly into the powder mix enclosed in the Matcon Intermediate Bulk Container. Until now, if a manufacturer's powder blend needed liquid adding, the only option was to use Fixed Mixers. You can find out more about Liquid Addition by clicking here.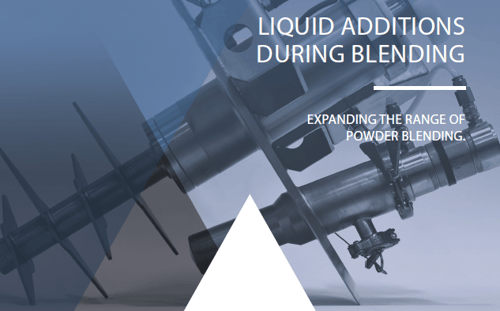 The exhibitions this year have also provided our engineering team with a chance to share expert advice in person, on how we help manufacturers with their challenges, efficiencies, and productivity. The main trending topics we discussed included recipe changeovers and transitioning from manual to automated recipe formulations. Read our article here to discover what's new in blending at Powtech 2019
Our Global Test Centres are Booking up Fast
We've seen a significant increase in bookings of our test plants this year, with more and more manufacturers looking to produce innovative short run mixes and blends. Testing allows them to go to market with a proven product and manufacturing methodology.
Our test centres offer the ideal structure and comprehensive service before going into full production. Matcon test plants mimic a full-scale production facility, replicating actual factory conditions. The life-sized equipment is contained in an environment that replicates working conditions for testing your products. Read our recent article about our customers test plant experiences here
In addition to recipe formulation, our mini plants have been used to demonstrate how the Matcon system can solve most powder handling problems. Typical customer tests this year have been: Cone Valve technology demonstrating powder flow and control, Near-Infrared (NIR) spectroscopy proving homogeneity of powder blend and blend times and IBC Cleaning Systems showing how allergen and ATP Swab testing validates the cleaning capabilities of your equipment. Find out what other areas our test plants are used to prove, what equipment is available and to locate a test plant near you.

Spares, Maintenance and Upgrade Packages
To assist our vast customer base, we now offer a wide variety of support packages that cover spares, maintenance and upgrades. For more information on our Maintenance and Care Packages read the article here.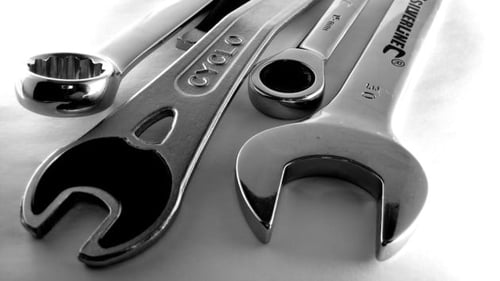 Updated Product and Services to Support our Growing Customer Base
With a growing global customer base, it's important that we have the resources and support to match. This year we developed our website support section to answer more of your most commonly asked questions and powder handling challenges. We've also created a dedicated resource area for you to tap into and segmented each potential issue by process stage. You can always request support directly for more bespoke or case sensitive inquiries here, but for common powder handling issues, the solutions are now available online.
The 2020 Events Calendar
Every year we get to meet a huge variety of customers, clients and colleagues at exhibition venues around the world and this year has been no exception. We'd like to say thank you to all who visited our stands, watched our demos and listened to our presentations.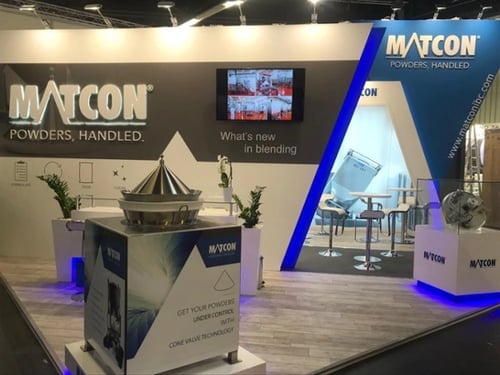 2020 is already shaping up to be a busy year of exhibitions and we look forward to seeing you at one of the following:
More information on each of these events will follow in the New Year.
Help Closer to Home
At Matcon we have the pleasure of working closely with two local charities, the Evesham Adventure Playground Association and The Vale School Evesham.
This year we were fortunate to be part of the installation of a new sensory classroom at The Vale of Evesham School, a specialist school for cognition and learning right on our doorstep.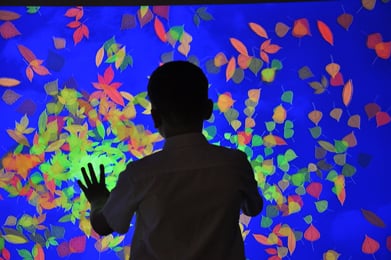 The ultra-modern classroom features 'Augmentative and Alternative Communication (AAC) systems', which will offer greater expressive communication opportunities to non-verbal children. Designed to stimulate visual and interactive learning, the room includes specialist pieces of play equipment to encourage the learning and engagement of children with complex needs. Discover more by reading the full article here.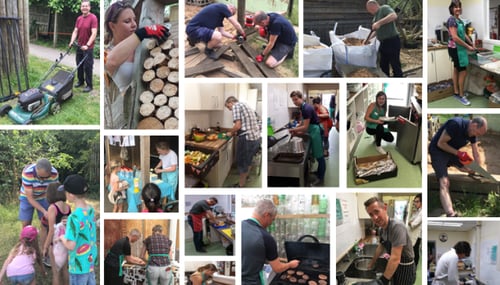 We have also been working closely with Evesham Adventure Playground Association, a charity set-up to ensure children, young people and families have the space and environment that challenges and inspires. This year the Matcon team have supported the Adventure Playground with funding and manpower to erect a new fence around the playground and assisted with preparing and serving hot meals during the school holidays.To find out more about the playground click here.
Innovation Driven by You
If it wasn't for our customers who fuel our innovation and learning, we wouldn't be the progressive company we are today. Through your manufacturing experiences and the work together in our global testing facilities, we have a huge resource of knowledge and experience in solving powder handling challenges. Through patented technologies and an exceptional team of engineers, designers and technicians, we are able to develop and implement state-of-the-art processes and innovative equipment to improve powder handling practices, in a wide variety of industries.
A huge thank you to all our customers, suppliers, agents and colleagues across the globe. Your knowledge and experiences mixed with our years of inventing innovative equipment and processes have blended us into the company we are today, helping global manufacturing facilities, in nine industries.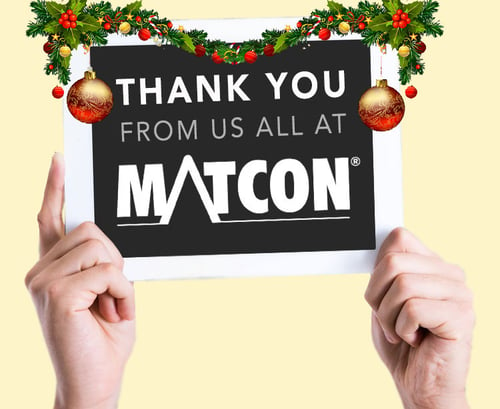 Future Thinking
2020 is set to be an exciting year. With a packed calendar of events and product innovations in the pipeline, we look forward to helping new and existing customers overcome their powder handling challenges and realise their productivity goals.
Wishing you a very happy festive season, from the team at Matcon.