A test plant is a smaller version of a manufacturing site. It is used to demonstrate the process and necessary equipment needed to manufacture or develop a specific product within a controlled like for like environment. This means that manufacturers can run trials for new products, try out equipment and systems, all using their own powder ingredients. Whether testing one batch or multiple batches, a Test Plant gives you the best method and equipment to suit the production of your ingredients without having to stop your current activities. It also allows you to see how Matcon equipment can effectively solve common powder handling issues such as recipe segregation, powder bridging and cross-contamination.
Read on to find out about how and why Matcon's customers have used our global test plants to improve their manufacturing practices.
Proven Past Testing Validation
We are often contacted by manufacturers looking to carry out Powder Analysis tests for new recipes or using new supplier/ingredients. The test is commonly to ensure that they can maintain the same blend parameters in every batch with the same production results and quality.
In many cases, due to our experience, we have often already come across the supplied material or similar recipe/product. This gives you the advantage of knowing how these trials progressed, what outcomes occurred and reduces the time needed for you to choose the correct equipment and less time spent testing your products. If all these activities are carried out on site in a working factory setting, it can often lead to downtime and diverted resource.
Matcon's engineers are happy to share their knowledge to help you get the best from your powder handling system and find the most efficient, cost and time saving process to suit you. Sometimes a test of your ingredients, especially an R&D test, is the best way for you to fully assess and experience the best method of production for yourself.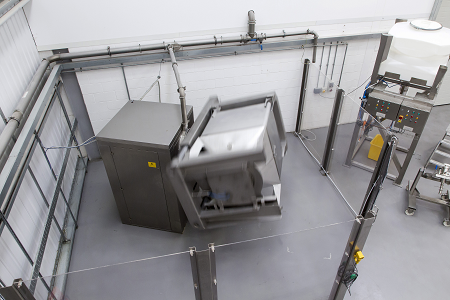 Commonly Performed Tests
Formulation of blends and powders
Does the equipment provide the correct blended mix/particle size without segregation?
Does cleaning time impact on efficiency?
Is the speed and efficiency of production better than your current/previous equipment?
Blending with /without High sheer and Liquid Addition?
Can the equipment fully blend my sticky materials?
How much additional high sheer do I need for my specific ingredients to mix?
What is the minimum mixing time required to fully mix my product?
When is the best time for liquid addition?
How much wasted product is left in the container?
Discharging the powders
Is all of the product discharged?
How does the flow of product occur?
Do the materials segregate during discharge?
What can I discharge my powders into?
How accurate is the weighing at discharge?
Cleaning of IBCs
Logistically are IBCs easy to test by my operators?
What methods are available to test and validate cleaning?
How easy is the equipment cleaned?
Do I have to stop production to clean this equipment?
Do I have to dismantle equipment to clean?
Our fully equipped test plants are your pilot facility with materials handling equipment that replicates working conditions for testing your products. These facilities can be used to answer the above most popular asked questions. From blend validation using Near-Infrared (NIR) spectroscopy to prove the homogeneity of your blend and determine correct recipe blend times, you can rely on this test opportunity in confidence when making your capital investment choice.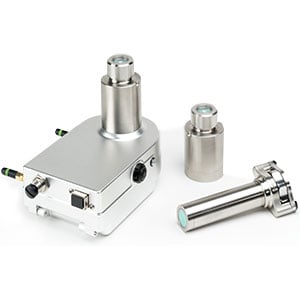 Along with Product Trials, The Matcon Test Plant is Also Used For…
Holding events - we regularly host seminars and conferences covering topics useful to our customers, such as allergen handling (first held in 2018) covering industry related subjects for instance changes in H&S, FDA regulations and auditing procedures.
Training - our test plants are the perfect space for training your Engineers and Operators. From best, hygienic, safe practice to cleaning, testing and servicing the equipment, your production line and facility can continue without interruption while your team are in safe hands being trained by our experienced team.
Building a new manufacturing facility - some customers through business growth, expansion or when constructing a brand-new factory building, choose to visit our test plant to visualise the required space required for their equipment. Our in-house engineers can mock up 3D visuals along with demonstrations and logistics of equipment and how it is moved within a factory environment. When companies come to the test plant they can see how effective the space works when laid out in an efficient way to minimise the amount of time that may be lost when producing goods.
Why Choose Matcon's Test Plant?
We specialise in helping our customers handle their bulk powders, mixing and packing methods using the most efficient and innovative technological equipment. With a patented Cone Valve contained in each Intermediate Bulk Container (IBC) system, we guarantee efficient, fast material transfer without the waste.