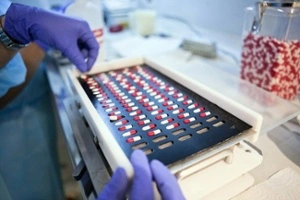 Efficient throughput versus safe material handling, two key factors that pharmaceutical manufacturers must carefully balance.
INTRODUCTION
The Challenge - Pharmaceutical Manufacturing
Pharmaceutical manufacturing is a hugely competitive industry that is governed by strict regulations.
To succeed in this space, manufacturers need to match efficient throughput with careful materials handling, delivering products to a fast-paced market at the right price point. Any compromise made on throughput or product quality can have serious consequences.
Whether manufacturers are handling oral solid dosages (OSD)or solvent-rich 'wet cake' solids (API), it is hugely important to get the materials handling system right. Bottlenecks, slow throughput, tablet damage, product inconsistencies, and inefficient processes are inherent in this space, so what can you do as a pharmaceutical manufacturer to mitigate these issues? We've collated a number of resources to help you solve these issues and plan a better manufacturing process.
Often the structure of API systems can vary and tends to be quite bespoke. If the resources detailed on this page don't address your specific API use case.
Contact one of our pharmaceutical process technicians who will be able to advise you on potential solutions.
THE CHOICES
Equipment Choices for Pharmaceutical Manufacture
No matter how experienced you are as a pharmaceutical manufacturer, at some point you will encounter production problems.
Typically, there are two methods of feeding powders to processing and each has its inherent issues.
Feeding to Compression
Issues feeding powder to direct compression
Although this is the quickest and most straight forward process the following issues often occur:
Segregation of ingredients is a big concern when feeding to direct compression as this will affect the uniformity of the finished tablet and risks the expense of failed batches.
Tablets are often created by a powder product, so if the powder can't flow to the compression hopper at the correct rate this results in a slower process restricting the capacity of the factory.
Issues feeding granulated material to compression
Currently, the most common methods of tablet manufacture are either via wet granulation or roller compaction and due to the wide use of butterfly valves the material is expected to be 'free-flowing', but this method does increase the risk of segregation and results in poor tablet quality.
Wet granulation
Matcon can save time by introducing IBCs prior to the mixing stage to feed powder to the high shear mixer. This reduces the time taken before production commences. Typically, a granulator is filled by hand from sacks however with the implementation of IBCs, this filling step can take place in parallel to the granulation process with an IBC filled in a separate dispensary and then brought to the granulation suite when needed.
Feeding to Roller Compaction
In our experience, the materials handling part of the manufacturing process can get overlooked at this stage. If you have opted to conduct 'dry granulation' using a roller compactor as your manufacturing method, it is vital to get the feed of material correct as this is the last point at which you lock the chemistry into the powder.
As we are feeding pre-blended material into the roller compactor the need to maintain the mix is crucial, any differences in homogeneity will be present in the finished product. Worse still inconsistent feed to the compactor could influence the finished product due to variations in density of the material at the inlet – either caused by poor flow or by inconsistent "lumps" of product entering the inlet.
Find out what equipment options you have for each feed method.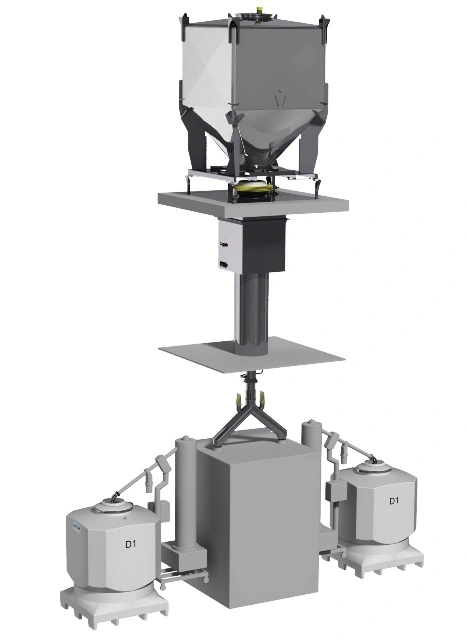 Problems usually occur due to inadequate or unsuitable equipment or errors due to manual intervention or manual operations. These can lead to issues in areas such as segregation of blended material, lack of containment or reduced/no flow of powder from a container. In worse case scenarios this can lead to a cease in production while the problem is being fixed.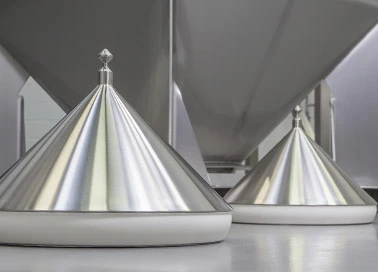 Compared to butterfly valve IBCs, the Cone Valve provides superior discharge control preventing the traditional powder handling issues such as bridging, rat-holing and blend segregation.
RECOMMENDATIONS
The Optimum Equipment Solutions
One of the best solutions for feeding powders or granules to a downstream process is an IBC. But not all IBCs are created equally and it's important to know what to look for.
What initially looks like a cheaper option is usually cheaper for a reason and may not give you the performance you need. It is worth researching to understand the benefits and limitations of different types of IBC. As well as production quality, the key difference in systems is in the valve outlet itself. Some manufacturers opt for IBCs fitted with a butterfly valve, others supply IBCs with cone valves.
Learn more about IBC discharge valves and how the Cone Valve is particularly suited to pharmaceutical manufacturing.
RESOURCES FOR PHARMACEUTICAL MANUFACTURERS
How IBC Cone Valve Technology Solves Pharmaceutical Powder Handling Problems
Bridging, rat-holing, and blend segregation. These will be terms that you are all too familiar with, but what steps can you take to mitigate these issues?
Learn more about Matcon Cone Valve technology and how Cone Valves are the optimum solution for manufacturers processing anything from cohesive to free-flowing powders.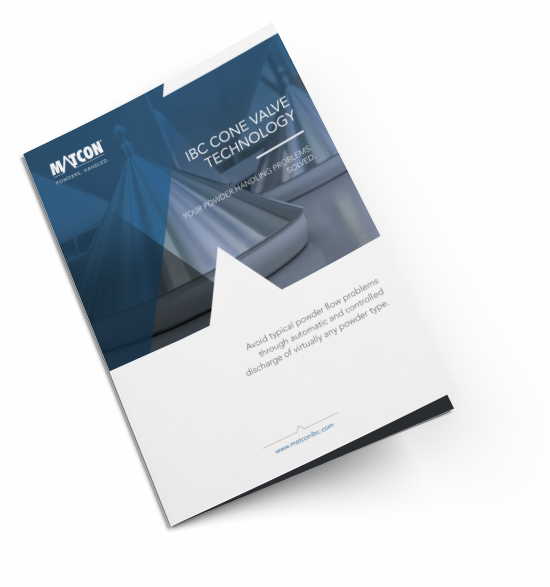 THE OPPORTUNITY
Why are IBCs particularly suited to Pharmaceutical Manufacturing?
Unlike boxes, tubs or drums in manual materials handling, IBCs are completely dust-tight - eliminating much of the potential for contamination.
Cone Valve technology enables complete discharge of all materials from the IBC, leaving no residue (wasted product) inside.
Using IBCs to move materials between processes removes bottlenecks so each process can operate at its optimum rate increasing efficiency and capacity.
With IBCs it is much easier to feed the outputs on one common process into multiple lines so multiple products can be processed at the same time.
RESOURCES
Better Ways of Handling Tablets Using IBCs
If you can accommodate a single coating batch in one IBC you will naturally see production efficiencies through reduced manual handling, fewer fewer repeated operations and less downtime.
This is just one way in which IBCs can improve the way in which you handle tablet manufacture, download our guide to discover more.
MANUFACTURING PLANT DESIGN
Is Your Pharmaceutical Manufacturing Plant Designed to achieve the Best Results?
Selecting the right materials handling equipment for OSD and API manufacture is only part of the process. Careful consideration should be given to the layout of your manufacturing plant if you are to achieve the throughput and quality levels required in this industry.
But where do you start when designing a pharmaceutical OSD facility?
If you are designing a new facility or adapting an existing space, it is vital to think about the steps involved in production:
Do you blend ingredients? Press tablets? Undertake quality control procedures? Package SKUs in different ways?
What equipment do you need at each of these steps, and how much space does it take up?
How do you move materials between the different steps in the production process?
How to decide the most efficient location of internal Zoning areas and product flow to external logistics
Consider the space available
How you configure your production area will influence what equipment you choose and how the manufacturing process will flow.
Typically, pharmaceutical production facilities fall into three categories:
Single-floor facilities
Two-floor facilities
Multiple floor facilities
Each scenario has its advantages and disadvantages find out more here or download our guide to designing a Pharmaceutical Manufacturing Plant below.
Consider how you handle materials
Not considering how things like powders, granules, tablets, and capsules are handled and moved from one stage of the production process to another can cause inefficiencies that seriously limit production capacity and the ability to expand in the long term.

The easiest way to move materials is manually via tubs, drums, or boxes, this can, however, lead to a waste of product, time, and energy and ultimately a quality control issue. One way to remove the handling of materials is to couple all the processes together which eliminates waste but this process relies on the operational speed of the slowest step.
The ultimate handling solution is to use Intermediate Bulk Containers (IBCs) to move materials between processes.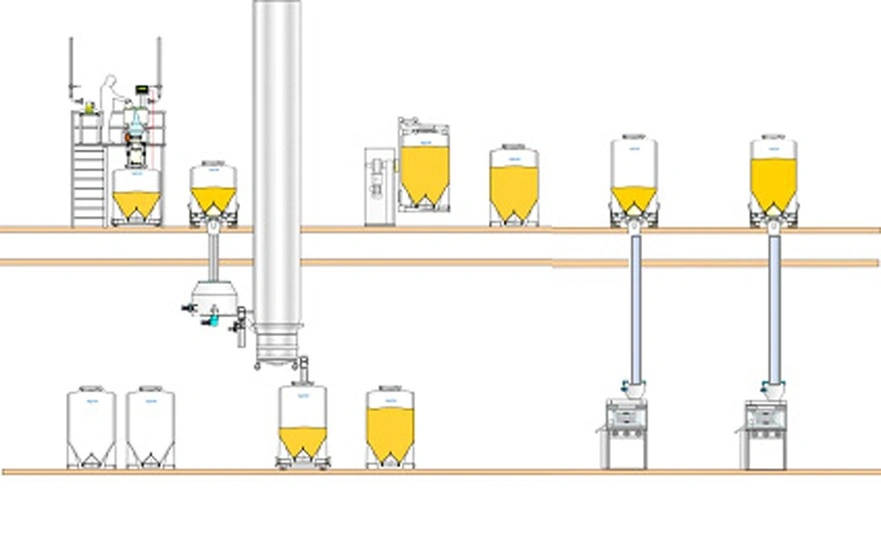 RESOURCES
A Guide to Designing the Ideal Pharmaceutical Manufacturing Plant
Discover how a change in the way materials are handled can give manufacturers of pharmaceutical oral solid dosage (OSD) products an 'edge' over their competitors. Assembling a factory is not simply a question of 'fitting it all in' read the guide to learn how the design of a pharmaceutical manufacturing plant brings efficiencies and a competitive advantage to your business.
Complete with factory layouts and insights on how to avoid common process flow problems, this is a must have guide for anyone consider an operational change to their pharmaceutical manufacturing facility.
Solutions to Common Problems
How to Blend Different Batch Sizes Using the Same Equipment
When designing a new pharmaceutical plant or extension, another key consideration is blending method.
Careful consideration needs to be made to cover all eventualities of batch size. How are you accommodating your smallest batch and your largest batch? If you're not careful you could end up needing to buy 3 or 4 blenders, each of which will need its own space within your facility.
Failing to get a balance between the size and number of blenders could mean increased quality control checks (and cost).
How to Accurately Control Free-flowing Powders
Do you find that your system is often running dry on sieves or mills? Or in contrast is your pharmaceutical equipment being flooded by material?
Many companies have understood the conceptual advantages of using a decoupled IBC system, yet continue to use conventional butterfly or slide-valve IBC technology. This works well for some companies, but for others who have particularly free-flowing powder blends that are difficult to handle, they are hugely disappointed with the performance achieved. The cost implications of a failed or recalled batch can be huge.

Explore discharge valve choices and how to control free-flowing powders in your pharmaceutical equipment.
Preventing Segregation with the Right Pharmaceutical Equipment
Segregation of powders can lead to spoilt product and wasted materials. Equipment selection can have a huge impact on eliminating powder control issues.
As you start to investigate which IBC is the better option for you, don't be driven by price alone. What initially looks like a cheaper option may not give you the performance you ultimately need. It is worth doing your research and understanding the benefits and limitations of the different types of IBC on the market today. We have created a handy checklist of the types of questions to ask when making that selection.

Choosing the right type of IBC for your business depends upon a number of factors, follow this link to learn about key equipment considerations, especially if you have a product that is prone to segregation.
How Pharmaceutical Manufacturers can Avoid Bin Rash
'Hammer-rash' or 'Bin-rash' is the term used to describe the hammer pattern left when operators bang the side of the bin to dislodge powders that haven't discharged properly.
In addition to 'Bin-rash', we've also seen operators fully clothed in hazard suits rodding the product out through the container inlet to get it all out.
These issues can be avoided completely when you've got the right powder flow.
Find out how to get better powder flow with Cone Valve technology.
How to Avoid Powder Segregation and Bridging
All facilities that handle powders will have had to deal with 'difficult' or cohesive powders.
These common issues often require operator intervention, such as 'rodding' or 'hammering'. But have you ever calculated how much valuable time is lost, or the damage it does to the powder and equipment - not to mention the GMP risks involved!

With regular manual intervention, it is not accurately known what capacity of valuable powder ingredients is lost each year, simply due to the loss of blend uniformity or manual intervention during the manufacturing cycle.

These costly issues can be reduced significantly by selecting the appropriate powder handling system. The Matcon Cone Valve is designed so that, upon discharge, all the material in the container moves at the same rate across the whole container, creating uniform flow – no stagnant material, no rat-holing and a first in-first out sequence of material movement.
Read our blog on avoiding powder segregation & bridging to discover the Matcon solution that will reduce your cost per kilo.
RESOURCE
How to Select the Ideal Pharmaceutical IBC Supplier
Choosing the ideal IBC system to meet your pharmaceutical needs can be difficult. Get it wrong and you potentially face many of the powder handling issues discussed above.
To help you ask the correct questions of your IBC provider, we've developed the 'Ideal IBC System Checklist' to help you validate your equipment procurement process and ensure the IBC meets all your needs.
THE OPPORTUNITY
Useful Information for Engineering Teams
Access our detailed engineering resources to help guide you to Pharmaceutical Powder and Tablet Handling Best Practice.
Use our resources for Engineering Managers, designed specifically for the pharmaceutical industry to increase production efficiency with the unique features of the Matcon IBC Cone Valve.
OUR APPROACH
Why Choose a Matcon System for Your Pharmaceutical Manufacturing
Matcon has worked with both OSD and API pharmaceutical manufacturers across the globe and has proven experience providing material handling solutions.
Technology is not enough without the knowledge of how to apply and harness its full potential. At Matcon we don't just build and supply powder handling systems - we consider your business needs and design systems specifically to meet those objectives.
We have the facility to carry out comprehensive engineering studies and full-scale testing, vital in diminishing the risks of new machinery investments.
Most Common Applications of Matcon Technology
Powder Handling - our unique Cone Valve provides a reliable way to feed powders and granules into tablet compression or roller compaction. These are available in a range of sizes from 50L to 3500L.

Tablet Handling - if you are currently using multiple drums, consider using a single IBC which completes the same job with its fast, automated filling capabilities.

API - our Cone Valve IBCs ensure your product does not degrade at any stage of the manufacturing process ensuring that the solvent rich 'wet cake' solids are handled with care between the centrifuge and drying processes.
FURTHER READING
Related Resources
Have look below at some related articles from our blog to learn more.
Get in touch
Request a consultation
If you have a specific powder handling issue or are considering a new pharmaceutical plant and need help or advice specifying the right equipment, request a no obligation consultation from one of our pharmaceutical process engineers.
The Original Cone Valve IBC Manufacturers
At the heart of the Matcon system you will find the Cone Valve - invented, patented and developed by us. We help manufacturers overcome issues of mix segregation, containment and bridging that are inherent in traditional powder handling systems. Discover our unique approach to powder handling and the innovation that underpins all that we do.
About us