PROCESSING EQUIPMENT
Powder Handling Systems from Matcon
Through the decoupling of manufacturing processes, we are able to create flexible, safe and agile production facilities that enable manufacturers to produce better products with a wider variety and batch sizes. These factors ultimately make manufacturers with Matcon powder handling solutions more profitable and successful.
POWDERS, HANDLED
We Solve Your Powder Handling Problems
Matcon's powder handling equipment includes our patented Cone Valve Technology, which ensures that we can overcome all manner of powder flow and containment problems. The Cone Valve is used to control a wide range of bulk materials in powder and tablet form, either as a raw material or blended finished product.

Powder Bridging
Solve and prevent poor flow that is caused by powder bridging.

Rat Holing
Ratholing can lead to costly powder flow problems.

Containment
Meet hygiene and safety requirements and remove the risk of cross-contamination.

Powder Mix Segregation
Overcome the segregation of your powder mix to ensure you achieve mass flow.
Expert Guidance, Help and Advice
If you're experiencing any of these powder flow problems or have similar challenges with bulk solids, visit 'powder handling problems solved' where we discuss typical causes for each powder flow problem and provide practical advice to help you solve those problems.
HIGH-PERFORMANCE MATERIAL PROCESSING - SYSTEMS AND EQUIPMENT
Leading Powder Handling Equipment
Matcon designs and manufactures powder handling equipment that can be used to improve manufacturing processes across a range of applications. At the heart of our Powder Handling System is an IBC fitted with our patented Cone Valve Technology, a unique discharge valve that eliminates typical powder flow problems.

IBCs (Intermediate Bulk Containers)
---
What is an IBC?
An IBC or Intermediate Bulk Container is a precision engineered, high-grade stainless steel container that enables manufacturers to blend and transport powders between manufacturing steps.
What does it enable?
IBCs enable manufacturers to decouple processing stages so that multiple processing steps can be undertaken simultaneously without pausing the production process.

Cone Valve Technology
---
What is a Cone Valve?
A Matcon IBC has a 'passive' cone seated within the outlet of the container. When located on the Discharge Station, an 'active' probe assembly lifts the cone which creates an annular gap causing material to discharge using mass-flow.
Why it is Important
It is a superb discharging device overcoming all manner of powder flow problems. The lifting action of the cone breaks up bridged product and prevents material from rat-holing and causing material segregation.

Quality Standards
---
To ensure that products perform to the highest standards, we follow a series of industry directives including:
What does it enable?
Health & Safety Legislation and the Machinery Directive 2006/42/EC.
Manufactured in line with EHEDG guidelines.
Rigorous Quality Management demonstrated by our ISO 9001 certification.
Type approval for most ATEX classifications.
Powder Handling
Technology in Action
Learn how the IBC and Cone Valve works together to precisely and quickly discharge powders.
See how the Cone Valve prevents materials handling issues such as rat-holing, bridging and powder segregation.
Watch the Cone Valve and see how easy it is to discharge materials from our IBCs to the next processing stage.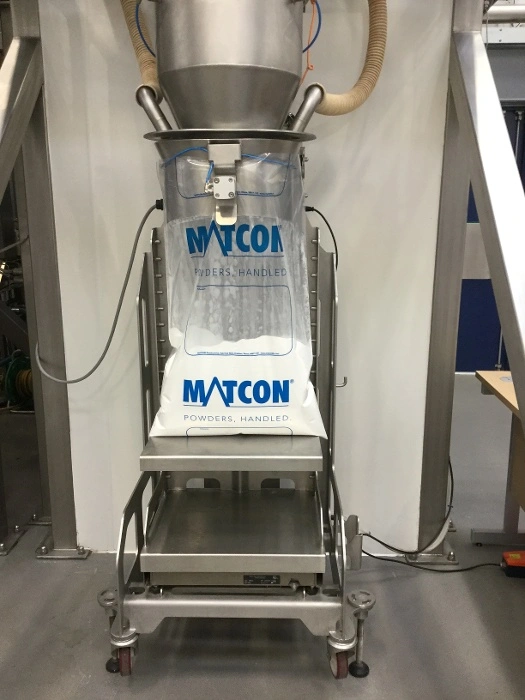 PROVEN TRACK RECORD
Handling Powders for 40+ years
Technology is hugely important if you are to remain competitive in today's climate but technology is not sufficient without the knowledge and experience of how to apply it.
Matcon is in the enviable position of being able to offer both, 40+ years' experience and the technology. Over the last four decades, we have specified, designed, engineered and installed powder handling systems for clients across the globe. And as the originators of the Cone Valve, we understand the technology better than anyone.
We have the experience and resources to carry out engineering studies and full-scale testing which is invaluable in reducing the risk of purchase. And being part of the IDEX Corporation, Matcon has the global reach you'd expect from a market leader.
When we say "powders, handled", your powder handling requirements really are in safe hands.
Our production volume has almost doubled with the Matcon IBC System. We are no longer using ribbon blenders as the mixing results achieved with the Matcon IBC Blender with High Shear is far ebtter than the ribbon blenders.
APPLICATIONS
Supported Industries
Over the last 35+ years there aren't many powder handling problems we haven't solved, but what many people don't realise is how many industries we've successfully supported over this period.
LEARN MORE
Resources
With 35 years behind us we've solved numerous powder handling challenges. Explore our resources section for advice, insights and recommendations all drawn from our experience helping powder handling manufacturers across the globe.
GET IN TOUCH
Request a consultation
Submit the form below and we will be happy to answer your questions.
The Original Cone Valve IBC Manufacturers
At the heart of the Matcon system you will find the Cone Valve - invented, patented and developed by us. We help manufacturers overcome issues of mix segregation, containment and bridging that are inherent in traditional powder handling systems. Discover our unique approach to powder handling and the innovation that underpins all that we do.
About us