We opened our doors on Wednesday 24th Oct to manufacturers, engineers and technicians across the food industry to share the latest information, advice tips and insights on allergens. With allergen related incidents dominant in the news at the moment, it was a great opportunity for all who attended to discuss their concerns and to discover the latest updates on allergen risk prevention.
The allergen day was a mix of lectures, breakout sessions, practical demonstrations and a tour of the test plant which is always popular and a great way to show how equipment can be utilised to reduce allergen risk, and in most cases remove the worry completely.
We'd like to thank everyone who attended the event, we have received such positive feedback. For those who were unable to attend we've summarised the day within this blog. We will be hosting more days like this throughout 2019, so if you'd like to attend or be notified when the events calendar is published get in touch.
Allergen Day 2018
The day brought together a number of informative speakers from across the allergen field who covered core topics like:
Current consumer allergen trends
How to test for allergens at the varying stages of production
The most accurate tests to use per allergen
Contamination reduction through cleaning and using the right equipment to suit your facility
The latest innovative technologies that can help you validate and prove the absence of allergens in your product
Traceability and labelling of your ingredients
…and much more.
Here are some of the key highlights from the day
An Introduction to Allergens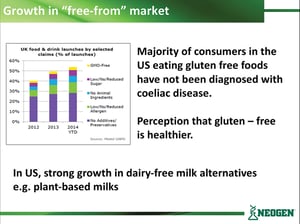 Pauline Titchener from Neogen gave an excellent holistic view of allergens from both the consumer and manufacturers point of view, along with a more data driven talk later in the day which included the most effective tests for the presence of particular allergens and guidelines on permitted quantities per allergen within a set product. She also spoke about the general trend towards 'free from' food labelling compared to the more traditional 'allergen free' messaging and the lack of continuity in product labelling globally.
Pauline said that she "hopes that food labelling can be standardised in the near future to help communicate clearly to the consumer."
The rising trend of consumers seeking 'free-from foods' as a preference has positively impacted demand for a wider choice of products compared to a few years ago. This in turn has helped people with allergens giving them greater food choices and has raised public awareness. While we were in the testing facility, the Neogen team demonstrated the ease of use of their various testing packs from swabbing for hygiene purposes to tests for allergen presence.
A Walk Through the Matcon Test Centre
The test plant tour is always popular with visitors to our Head Office. The tour gives manufacturers a unique opportunity to see how equipment can be used in both manual and automated environments to prevent most allergen related issues. Many of the delegates were surprised by the speed at which one operator could switch out equipment without tools, whilst keeping the product contained.
The cleaning equipment showed both dry and wet cleaning methods while the enclosed packing with its continuous automated flow displayed the ease and accuracy that is available to manufacturers today. In bin testing technologies such as Near Infrared Spectroscopy, were very popular as they showed the amount of extra production time and product quality that could be gained by testing without opening the bin lid and knowing accurately when a mix was ready to prevent over-mixing a recipe. The technician demonstrated the accuracy of the validation record that measures the ingredients within a recipe even down to the precise blending point.
Minimising Allergen Risk Yet Maintaining Efficiency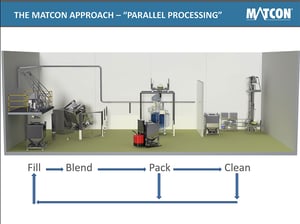 Richard Meheran, Business Development Manager at Matcon gave a hugely informative presentation that explained the various approaches that manufacturers could take to maintain manufacturing efficiency yet minimising allergen risk.
Richard compared fixed systems with their interconnecting mechanisms to decoupled systems which Matcon specialise in. He demonstrated how fixed systems are inflexible for small batch sizes, less efficient and prone to residual allergens. Whereas decoupled systems offer flexible recipe changes, parallel processing by simultaneous filling, mixing, packing and cleaning.
The reduced downtime and cost-savings were of particular interest to the audience and many requested further assistance in this area. If you'd like to speak with an engineer or request an onsite visit to improve your production capabilities and save costs, you can click here.
NIR Technology and How Manufacturers Can Gain Great Manufacturing insights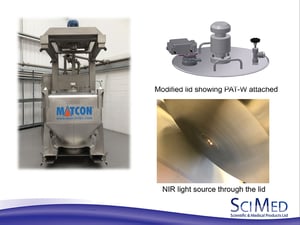 Darren Machen a Near Infrared Spectroscopy (NIR) specialist at SciMed gave an informative view of how this transformative technology can be used within the food industry at each stage of production. From identifying raw materials to particle size, the NIR ensures you no longer have to stop production and wait for quality control testing to come back. Scans can be achieved in seconds and be used to validate ingredients and blend point for compliance, proof of product quality and consistency of batch. It is clearly a powerful technology and Darren's talk was met with much interest.
Integrity in Food Manufacturing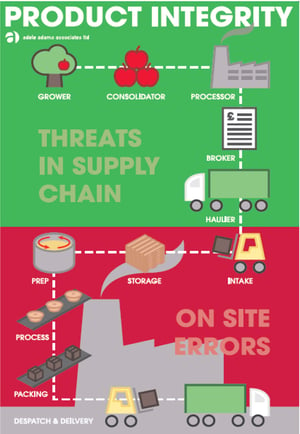 Adele Adams has worked in the food industry for over 20yrs and now helps manufacturers with their training needs. 'Integrity' was Adele's main focus on the allergen day discussing controls and process implementations that reduce human error during production. She talked about the best methods of validating and documenting your processes as a manufacturer and accurate labelling. The mapping and traceability of ingredients was highlighted as one of the most important assessments when it comes to allergens. For instance; do you know what is stored next to your raw ingredients when they're with the supplier or when in transit?
"Traceability and mass balance is only as good as its weakest link", says Adele and
"If you could redesign your entire traceability mapping from scratch now – would you change anything?"
Designing the Ideal Factory
The final presentation of the day was by Steve Mathews who spoke about key considerations when designing a factory and the importance of getting the right equipment planned before a build begins.
Steve gave some frightening, real-life examples where manufacturers had built first then planned their processing line later. He highlighted the issues that they faced from equipment not fitting below ceiling heights to not enough turning space for lorries to approach the building.
One of the simplest yet principle advice he gave was that manufacturers must "listen to their operators, and get them involved as they understand the day to day processes and where improvements could be made…"
Steve also spoke about the logistics of your ingredients and how to create space saving strategies. The strategies could then be applied to the movement of ingredients but also the ease of equipment use and maintenance. He stressed the importance of having a 'complete view' of your processes, Steve also advised manufacturers not to "stick with static equipment just because it's always been there, be open to change…"
He also gave a demonstration on the 3D CAD system that Matcon use to design facilities. It showed how the system could accurately visualise the available space and how a virtual production line with equipment in place and zoning areas could look.
Final Food for Thought…
For all those that attended our allergen day, I hope that we provided valuable information that you can put into practice and that we answered all of your queries. If you would like to request any more facts and figures shared on the day, we would be pleased to pass those on to you.