Recognised as the "only trade fair in the world that covers all aspects of food production", Anuga FoodTec is an important date on the calendar for the international food and beverage industry. This year's event saw over 50,000 food industry experts inform themselves about the innovations and developments of the supplier industry in Cologne, Germany.
From food processing to filling, packaging materials, ingredients and food safety, the exhibition had it all, including the Powder Handling Experts Matcon. Following Matcon's return to Anuga FoodTec we gathered the views of the team to hear more about this year's exhibition and discover the current hot topics in the industry.
Now that you have had the opportunity to review and reflect on Anuga FoodTec, what are your general thoughts?

The show is certainly a high profile event. We enjoyed speaking to a range of delegates working within Food manufacturing. The exhibition attracts a significant number of key suppliers and a wide range of international visitors looking for new ideas.
The event was definitely a success for Matcon. We were pleased with our presence, achieving a regular footfall to the stand and holding some interesting conversations with delegates.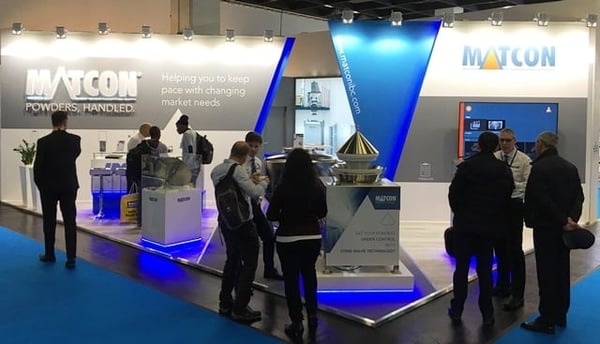 There were a number of hot topics at this year's event, including resource efficiency. What were the topics that you discussed the most at the event?

We were pleased to have a large number of delegates talking to us about in-bin blending and how it can support efficient, contained production. We also had some good conversations about IBC Systems, both as a transfer method between processes and to reduce waste.
It was great to see several of the stands had working demonstrations. This included the Matcon stand where we had a working demo of a Discharge Station using the Matcon Cone Valve, which helped us discuss ways to solve a range of powder handling challenges from poor flowing powders to blending and auto formulation.
What were the key areas of interest and discussion points during the event?
We were pleased to speak at this year's event in the food ingredients forum. Our presentation explained 'How adapting the manufacturing process will support innovation in the bakery industry'.
Matcon's Business Development Manager Richard Meheran spoke about how consumer behaviour is driving manufacturers to develop new flavours, provide greater convenience and deliver healthier food choices and value for money. This means that if manufacturers wish to grow their market share, they must innovate, through the introduction of new products or ingredients. There is also an increase in challenges, particularly when you consider the rise in food intolerance in the general population.
To meet these challenges and continue to operate effectively, manufacturers are choosing the IBC, decoupled process where each step operates independently of the process before or after (Parallel Processing). This brings flexibility and containment, leading to dust free and traceable production for both large and small batches.
What were the roles of the people you met at Anuga this year? Did they have any common questions and interests?

There were a wide range of visitors from all continents with industries varied, including some of the traditional sectors such as bakery, infant nutrition, beverages and flavourings. There were a large number of specialist high end/low volume spices and flavourings manufacturers that we spoke to.

By the close of the event we had spoken to a significant amount of delegates across a range of roles – Operations Management, Project and Production Engineers, R&D and Engineers.
What were the common topics that you heard being discussed at this year's event?
Common topics highlighted during the show were the need for increased production flexibility & importance of high hygiene standards. Containment and poor flowing powders were probably the most common issues discussed at the Matcon stand.
Powders Handled
If you missed us at the Anuga FoodTec show and would like to speak to a member of the Matcon team then please get in touch via our contact us page.
If you are currently experiencing powder handling challenges or are looking to improve manufacturing flexibility then please visit our blog to learn more.