Stopping a production line has huge implications for any food manufacturer. Operators waiting around, orders stacking up and delivery times not met, all impact on productivity and ultimately profitability and competitiveness. This is not a place any food manufacturer wants to find themselves in, but it is increasingly common.
Typical reasons to halt a production line include:
Changing recipes
Cleaning procedures
Mechanical issues
If food manufacturers were able to minimise or eliminate these issues, the advantages in terms of process and cost efficiencies would be huge.
Leading food manufacturers are finding a way to mitigate against these issues and keep manufacturing downtime to a minimum. In this blog we'll explore the alternative production processes that can provide these efficiencies.
Meeting Changes in Demand
Consumer demand for increasingly diverse recipes places food manufacturers under immense pressure to deliver. Those companies who can meet this demand make great strides in market share and profitability, but those who cannot quickly lose business to faster more agile competitors. It can be very difficult for businesses relying on legacy machinery and systems that were originally designed for fewer SKU's/recipe changes to keep pace. Many traditional production lines were designed to output just one recipe per day, with large quantities being achieved only by duplicating production lines or increasing the size of equipment.
Changing or reconsidering your production process can be as daunting as the prospect of downtime but a simple change to a flexible manufacturing system offers the best of both worlds – agile, flexible manufacturing with a system that can grow to meet market demands. It sounds too good to be true, but it is a system designed purely to tackle powder handling problems which create bottlenecks and downtime.
Flexible manufacturing involves decoupling the individual production process and moving to Intermediate Bulk Containers (IBCs).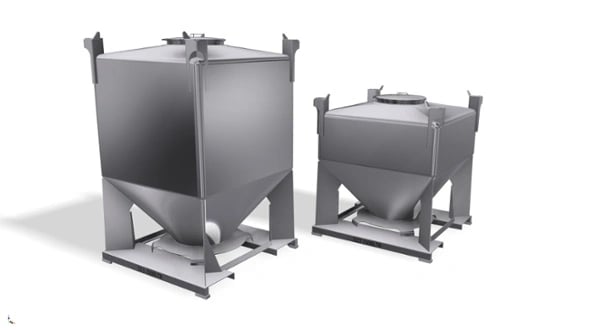 With a range of 300 to 3100 litres, IBCs provide the flexibility manufacturers need to produce a variety of recipes simultaneously with no waiting for one production process to complete before starting another. Additionally, as the containers are sealed, production does not need to be halted for cleaning or changing of recipes, saving valuable time and money.
IBCs are very well suited to the food manufacturing industry as they allow manufacturers to increase their product range and speed up production whilst retaining that high-quality product promise to their customers.

But how do you go about this shift in manufacturing? What steps should you take and how do you get started?
Plan and Build with Equipment That Allows You to Scale-up
Thinking ahead, forecasting and having future manufacturing goals is important but needs to align with the equipment you install and the potential additional systems you're likely to need as your business grows. Can you scale up your production without having to build a new facility or expand the space you currently utilise?
For food manufacturers, it's particularly important to get it right. Whatever products they make, they need to be of consistently high quality, contain what they say they contain, without the risk of contamination, allergens, or poor consistency.
IBCs are used by small and large food manufacturers alike. Smaller or start-up manufacturers use smaller sized containers, whereas larger scale facilities utilise multiple, larger sized IBCs that are automated for maximum output.
Why the Cone Valve helps
Matcon's unique cone valve sits at the heart of every IBC and is the technology that underpins flexible manufacturing and enables food manufacturers to effectively handle powdered materials. Whether the powder ingredients are free flowing or prone to segregation or bridging, the cone valve helps manufacturers achieve controlled powder discharge with or without additional feeders. This technology is also particularly suited to facilities with height limitations.
The system also has the following additional benefits:
Rapid batch changeovers as there is no product contact with the blender.

No cross-contamination risk as the IBC is the blending vessel and is fully contained.

High OEE rates as IBCs are formulated, emptied and cleaned offline, reducing downtime.
The key to reducing downtime and the costs resulting from this is to introduce a flexible, scalable, decoupled system. The versatility of IBCs makes them the ideal solution for food manufacturers planning for growth and those already in high growth markets. The agility of the system also means that the system can be scaled up to meet increased demand making it a cost-effective step.
If you would like to find out more about flexible manufacturing visit our page on parallel processing. To learn more about IBCs here and find out the ROI a flexible system can yield, download the case study below…