Manufacturers who produce for high consumer demand markets are always under pressure. In order to meet delivery timescales, you must increase productivity by reducing the amount of product waste and minimising any factory downtime. With many new products available in the sports nutrition and wellness market, manufacturers also need to consider how to change production lines regularly and clean equipment. With the additional recipe changeovers and cleaning activity, how can manufacturers continue to produce multiple recipes and varied batch sizes quickly and safely?
Are You Losing Unnecessary Downtime to Cleaning?
Unfortunately, there can be a lot of down time during the production steps when manufacturing recipes that require blending, including filling, emptying and cleaning of the blender. Traditional fixed mixers and conveying systems demand significant amounts of 'downtime' due to the complicated and potentially dangerous cleaning activity that may include both wet and dry processes. The operating line must be shut down and parts removed (for cleaning), resulting in wasted resource time and loss of throughput.

So how do you increase operational efficiency if you need to regularly turn off machinery (such as blenders) for a 'deep clean' and then test for signs of contamination?
Time to 'Decouple' Your Manufacturing Process
Using an Intermediate Bulk Container system (IBCs) means that the process steps can be separated (decoupled). This allows each manufacturing step to then be performed
simultaneously instead of sequentially. Product can be mixed while the IBCs are being cleaned or filled with the next recipe.

Implementing 'Parallel Processing' will ensure you reduce the amount of time that your machinery is out of operation. This would allow sports nutrition manufacturers to process the multiple production stages all at the same time. The use of IBCs will also facilitate you to manufacture using a closed system at each stage of the process, removing any contamination risk with the ability to perform efficient cleaning activity, without excessive downtime.


IBCs are also an attractive option when compared to more automated options such as pneumatic and mechanical conveyors when fast change overs, product integrity, contamination risk and overcoming powder handling issues are important. A fully decoupled IBC system can truly revolutionize the efficiency and throughput of a production facility.
Improve Production Efficiency with a Fully Decoupled System
An agile IBC approach to manufacturing that uses in-bin blending can significantly improve the efficiency of your production line and also solve many of the challenges presented by regular recipe changeovers, such as moving from whey protein to vegan protein. (see typical example below).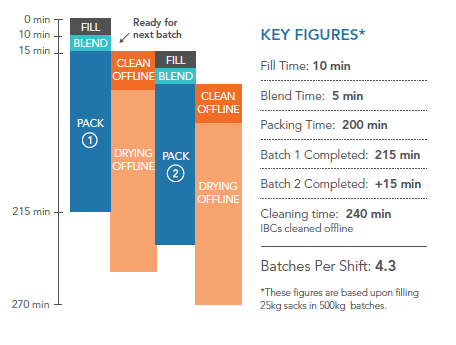 This approach ultimately results in significantly reduced downtime and batch changeover can be synchronised to meet with demand. Manufacturers can therefore produce what is needed, reducing the amount of stock held onsite and potentially discarded due to out-dated, obsoleting, lack of space or contamination issues.
Multi-Tasking - Blender Cleaning While Still Manufacturing Product
Downtime is significantly reduced thanks to quick change out parts and a non-product
contact blending system. If you operate wet wash as part of the clean down the Matcon system can continue with production as the cleaned parts dry offline.

The Matcon approach enables an almost instantaneous changeover between recipes - even when handling potentially sensitive ingredients. Not only does this approach save significant time, it also enables the efficient production of specialist recipes such as those which contain high risk allergens. This means you can produce a range of products in one day, whilst a fixed mixer system has limited capabilities due to its cleaning/drying requirements.
With a Matcon IBC system your factory output is increasing and your allergen risks are being reduced.
To learn more about Matcon's fully decoupled system, when all of the process steps work in parallel, please download our FREE guide to 'selecting the ideal factory layout for sports nutrition manufacturing'.