Using one of Matcon's test plants, customers are able to mimic pilot testing by having equipment available that permits product trials across all stages of powder processing. Any powders and combinations can be put to the test to prove the equipment's suitability to manufacture either single or multiple batches of product.
In addition to having the opportunity to test the equipment with your own product materials, you will also gain insight into Matcon's philosophy and solutions for more efficient, faster and cleaner production.
Matcon's powder handling test plants are available for single-day testing or by the week. Testing across multiple days allows customers to complete thorough evaluations with multiple batches and the opportunity to test different processes and combinations of equipment for the best results possible. Plus, working in the test plants gives customers the chance to see how successful Matcon's IBC powder handling system is in reducing the risk of cross-contamination, improving the containment and safe handling of allergens and hazardous materials.

About Matcon's test plant in Evesham, UK
Our test plant in Evesham, Worcestershire is 3,500 sq. ft. and offers full-scale equipment capabilities for all process stages including formulation, blending and packing/cleaning. Additionally, Near-Infrared Reflectance (NIR) spectroscopy, allergen and ATP testing equipment is also available.
The four equipment modules within the test plant
1. Formulation of blends and powders
This equipment module helps you investigate the formulation of potentially complex blends and how they can be handled in a hygienic and safe manner. With the use of a Russell Finex sieve deck and full local exhaust ventilation (LEV) points, operators can work in a dust-controlled environment. The Russell Finex sieve also demonstrates its screening capabilities which helps to reduce the amount of unwanted contaminates in your final mix.
2. Blending with or without high shear and liquid addition
This is considered one of the most valuable demonstrations conducted in Matcon test plants as it shows that the equipment can fully blend products to a homogeneous mix. Analysis of the blend will confirm the minimum mixing time necessary to fully blend your recipe, which is often significantly less time than the customers current mixing system. This can be done using NIR spectroscopy which displays live data showing exactly how well your powders are combining. Customers immediately see the benefits of reduced down time and the increased blending rates achievable.
Additionally, customers learn how the product is kept sealed within the IBC, eliminating the risk of contamination and the requirement for cleaning the mixer unit itself.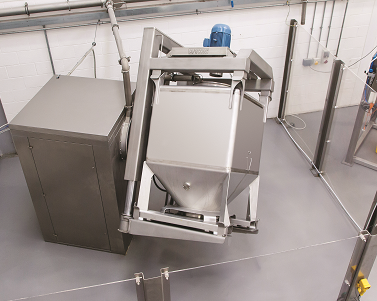 3. Discharge stations
The test plant offers two different types of discharge station for evaluation including mechanical and vari-stroke. The mechanical option discharges to a level probe whereas the vari-stroke option discharges to a linear height sensor.
In addition, a high lift hopper—which has twice the normal vertical reach of a standard hopper—demonstrates how to handle more difficult flowing powders.
The discharge stations feed downstream packing equipment including a powder packer and a refill packing machine, which both help demonstrate the accuracy and time it takes to pack off your product.
4. Cleaning
You will also discover how efficiently Matcon IBCs can be cleaned, eliminating any cross-contamination and allergen issues—a key challenge in the powder handling environment.
The test plant offers both manual to fully automatic, air-wash and wet-wash cleaning systems, giving customers the opportunity to perform a comprehensive evaluation of several ways to clean the equipment after production.
Overview of the equipment available in Matcon's UK test plant
IBCs in 500, 1000, and 1500 litre sizes

Formulation: Sack tipping module and bulk bag discharge station by Flexicon.

Blender: With high shear, liquid addition and NIR options

Discharge station: Mechanical with refill packing machine

Discharge station: Vari-stroke with Matcon powder packer

IBC to IBC discharge or IBC to FIBC discharge on either station (loss-in-weight and gain-in-weight options available as well as metal detection)

Cleaning: Air wash station and wet wash station

Gentle letdown chute and tablet discharge station

Road Unit and IBC for testing on customer site (for special cases)

Analytical equipment for powder analysis including: particle size, density and moisture, sieve deck analysis, angle of repose and angle of slip
Matcon test plants reinforce the need for a clean working environment
Ultimately, using one of Matcon's test plants will give customers the opportunity to learn how Matcon IBC technology effectively mixes your recipes in a clean and efficient manner, with minimal space requirements, ultimately saving you time and money. In addition, the working environment will be significantly improved by the removal of any airborne particles which could cause cross-contamination or allergen issues in your facility.
Testing your own powders and materials
Using a Matcon test facility will give customers the opportunity to mimic pilot testing by having equipment available that permits product trials across all process stages including:
Dispersal and homogeneity

Powder layering

Blending performance

Prevention of segregation on discharge

Accuracy and speed of dosing/packing performance

Levels of containment

Material flow and discharge capability

Cleaning capabilities for both wet wash and air wash

Gentle tablet handling

System interface/integration

Weighing and packing accuracy

Throughput and production capacity

Faster equipment cleaning reducing down-time
To discuss how you can book time in one of our test plants, use our request a booking form.