We are an experienced provider of materials handling solutions for both OSD and API pharmaceutical manufacturers. Matcon work in partnership with you to create a system designed to fulfill your business needs.
At Matcon we don't just build and supply powder handling equipment, we listen to your needs, design reliable systems, innovate and test to ensure your systems exceed expectations.
Whether you are purchasing an entirely new set up for a new pharmaceutical facility or adding efficiency to your original processing system, the technology is just not enough without the knowledge of how to apply and harness its full potential.
At Matcon, we have the facility to carry out comprehensive engineering studies and full-scale testing, vital in diminishing the risks of new machinery investments.
We have a global presence, with offices in the UK, USA, India, South East Asia and China, and a network of agents who providing customer support and servicing wherever you are in the world. We pride ourselves in possessing more than 35 years' experience in bulk solids & powder handling solutions.
Along with such an extensive history in engineering innovation and with a highly skilled operations team, Matcon ensures that every powder handling system is created and installed to meet the specific needs of each and every consumer.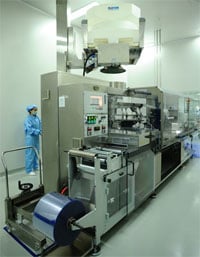 The most popular pharmaceutical processes Matcon is asked to provide:
Powder Handling

- IBCs come in a range of sizes, from 50L to 3500L. Our unique Cone Valve provides you with a reliable way to feed your powders and granules to tablet compression or roller compaction.

Tablet handling

- did you know that a single IBC will do the same job as multiple drums? IBCs also provide fast, automated filling capabilities.

API

- Cone Valve IBCs

ensure that solvent rich, 'wet cake' solids are handled with care between the centrifuge and drying processes, which means your product does not degrade at any stage of the manufacturing process.
How do Matcon solutions solve the traditional powder & tablet handling challenges?
IBCs are provided in a range of sizes to meeting your needs.

Matcon's unique Cone Valve technology overcomes the typical powder handling problems such as bridging, rat-holing and segregation.

Our IBC systems provide superior discharge capabilities compared to butterfly valve containers, whether you're handling free-flowing or cohesive materials.

Contained and dust-tight materials handling means that your working environment remains safe and your materials are not contaminated during the manufacturing process.

Contact our expert team
Whether you are looking to upgrade your existing facility, or design a new one, it is essential that you consider the impact of materials handling on the overall performance of your plant. At Matcon we have a global team of technical sales consultants who can provide ideas & solutions to reduce your manufacturing costs and improve production efficiency, quality & safety.
Posted by
Richard Lockwood