A major pharmaceutical formulation company in India recently shared how they increased output and reduced their operating costs by adopting Matcon IBCs using Matcon Cone Valve Technology.
The firm, one of the largest manufacturers of Antiretrovirals (ARVs) in the world, produce nearly 40% of the world's demand for ARVs. Even with the very high volume of product produced, much of their processes were still manual and relied on a vacuum transfer system for the transportation of powders between processing stages. The vacuum transfer system required manual cleaning, causing a great deal of production downtime.
Butterfly valves were used to discharge powdered ingredients within their containers. Operators experienced product bridging (when the product seems to stick in one place) inside the containers because of the butterfly valve mechanisms. Operators hammered the sides of the bins to encourage the powder to discharge, resulting in damage to the container. In addition, they sometimes found the mixed product would segregate leading to consistency issues in the end product.
To achieve full efficiency when handling their powdered ingredients, the manufacturer knew the importance of achieving a consistent flow of mixed powders to their tablet press, with minimal waste, and with the least possible amount of cleaning downtime.
Sales engineers from Matcon were invited to make suggestions on how to improve workflow, reduce downtime, and improve end product quality.

How Matcon decoupled the powder handling process and dramatically improved throughput
To reduce the manual handling processes, Matcon introduced a new decoupled solution using Intermediate Bulk Containers (IBCs) incorporating Matcon Cone Valve technology. This solution replaced the need for the vacuum transfer system in their manufacturing workflow.
Previously the vacuum transfer system required a considerable amount of time to clean between each batch of product, causing significant downtime. Hard to reach pipes and equipment had to be completely disconnected and disassembled. Components would then need to be thoroughly cleaned and reassembled.
"Matcon has solved our pain area of 'Ensuring free flow of 'Powder' with ease of handling. Cleaning is now performed offline, eliminating the downtime associated with taking apart the vacuum system, cleaning, validation and then re-assembly."
By switching to Matcon Powder Handling Technology, IBCs could now be decoupled and moved to the next stage in the process, drastically reducing the need for production line downtime.
In addition, Matcon IBCs have no entrapment areas, allowing for them to be cleaned quickly and efficiently when needed.
Matcon Cone Valve Technology
Previously the butterfly valves within containers and discharge equipment were causing bridging and product segregation. Matcon Cone Valves includes vibrating technology that creates a disturbance in the powders during discharge. The vibration stimulates mass flow of powder product ensuring there's no product bridging or segregation. This alone leads to consistent end product.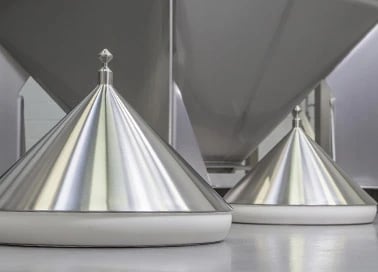 "Our ability to press tablets has increased. Speeds have improved by 15–20% using Matcon Technology, compared to butterfly bins and our previous vacuum transfer system."
In summary, by adopting Matcon Technology, the customer were able to:
Increase throughput

Solve their powder flow issues

Drastically reduce their downtime

Reduce wasted product
"Matcon Technology has meant that we can guarantee a consistent flow of product to the tablet compression machine, resulting in a higher throughput and reduced scrappage of tablets."
Matcon Technology results in increased throughput, greater efficiency, and higher yield and profits
This manufacturer now produces approximately 40 products of varying dosage combinations. Matcon Technology collects the blended powder recipe in an IBC from a fixed blender, which is fed into a Tablet Press from the floor above—a typical through-floor design configuration. The new equipment is significantly more efficient, saving operator hours and production time. The Matcon Technology is also future-proofed as IBCS don't get hammer/bin rash as they discharge completely.
"Ultimately we are now producing more batches per day, leading to larger annual output and a high return on our investment."
To find out more about how Matcon Technology is transforming pharmaceutical tablet manufacturing, including the full process that helped our client in India, download the Case Study below.