Get Ready For Battery Show Europe 2023! Matcon Is Returning With its Breakthrough High Shear Intensifer Technology
The countdown is on for the Battery Show Europe 2023! We are thrilled to announce that Matcon will be back in Stuttgart during 23-25 May at Booth 6-D21, ready to share our expertise in powder-handling solutions with the attendees.
As the development of new EV battery process will undoubtedly be one of the hottest topics, we appreciate that engineers face complex challenges when perfecting these next-generation batteries. This is where Matcon can help – and we look forward to demonstrating this during the show.
New This Year - Featuring the Matcon High Shear Intensifier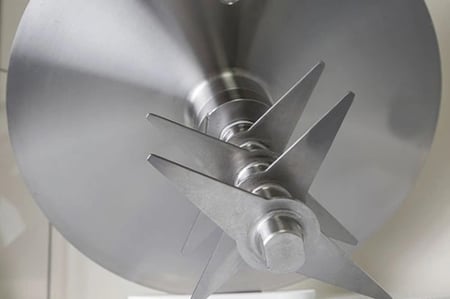 Matcon's innovative dry blending solution is the key to eliminating costly wet slurry mixing and reducing waste. Get the most out of your battery powder electrode with Matcon's breakthrough solution!
For the first time Matcon will be bringing the Matcon High Shear Intensifier to the show. It takes tumble-blending to the next level. Matcon's IBC Blender can be equipped with the Intensifier which comprises a bladed shaft that can accommodate rotational speeds from 500 – 3000 rpm and imparts high shear mixing capability to the process and has various practical applications according to need.

Low-speed stirring is excellent for more friable mixtures or where particle reduction is an issue. At the other end of the scale, it can be used at higher speeds to increase powder shear to aid blending.

The Matcon dry powder mixing method is a great option for manufacturers who are looking to save money by eliminating expensive slurry pre-mixing operations without sacrificing quality. It also opens opportunities to explore different electrode powder chemistries, allowing innovators to uncover substantial cost benefits and reduce waste.
Learn About Our Range of Innovative Solutions for Battery Manufacturing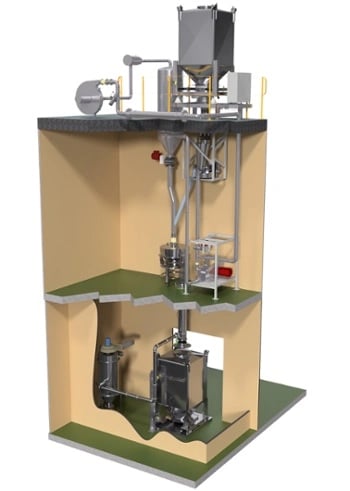 Learning from our 40 years of experience in providing powder-handling solutions for a wide variety of industries, Matcon has the expertise to deliver specialised solutions for the Battery sector.

We understand how different powders behave and how each customer's production objectives differ. We have used this knowledge to create tailored systems designs for battery ingredient producers in anode, cathode & electrolyte production, and original car manufacturers. Our innovative solutions have enabled these customers to move from R&D to full-scale production while taking advantage of agile process capabilities that will fit their ever-evolving needs.

By employing our cutting-edge technology, customers benefit from increased yields, improved performance, and cost savings - making us a partner of choice when it comes to battery manufacturing.
IBC Nitrogen System Inertion connected to a LIW Feeder
- the Matcon system is highly versatile and can
be adapted to suit different production targets.
Highlight of Last Year's Show and What Attendees Can Expect from Matcon this Year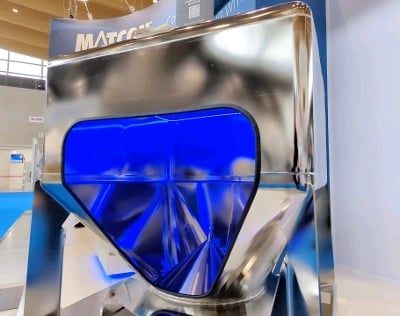 Matcon IBCs featuring the Cone Valve technology
Last year at the Battery Show, Matcon had an immensely successful show at The Battery Show Europe, meeting new friends and reviewing what the needs of the industry are and ensuring that Matcon is able to provide innovative solutions for the battery industry. For our second consecutive year in Stuttgart, we are introducing new offerings designed to take the industry forward.

Our booth will offer an interactive experience featuring the Matcon Discharge Station and the world-famous Cone Valve Intermediate Bulk Container to illustrate further how Matcon can help companies increase their efficiency when it comes to production. For the first time, we will be exhibiting the Intensifier, which delivers high-shear mixing and expands the capabilities of IBC tumble blending.
Connect with the Matcon Powder Handling Experts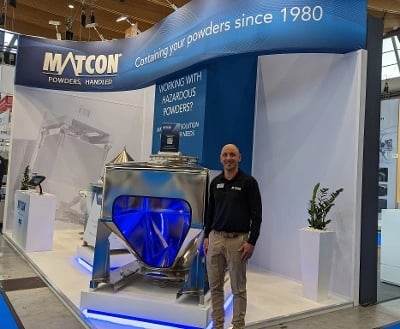 Powder Handling Expert, Julien Michon, EMEA Business Line Leader
Come and meet the powder-handling experts at Matcon - we will be at booth D21 in Hall 6 of The Battery Show Europe. Our team of knowledgeable professionals specialise in designing and providing advanced and efficient battery manufacturing solutions; whilst the industry is still developing, we are honoured to be involved in several giga-factory projects across the globe.

At our booth, you'll have the opportunity to discuss your production needs with experienced members of the Matcon team and explore our dynamic capabilities first-hand. Don't miss out on this great chance to connect– we look forward to seeing you there!