If you've heard that tumble-blending doesn't work on recipes containing liquids or fats, we'd like you to take a closer look at how we have overcome this perception.
Adding in high shear
The Matcon IBC Blender is designed to accommodate our
complimentary Intensifier which adds high shear to the tumble-blending process. The Intensifier consists of an 8 bladed shaft capable of rotation speeds from 500 – 3000 rpm. This rotation range allows the Intensifier to add low speed stirring to more friable mixtures or where particle reduction is an issue. At the other end of the scale it can be used at the higher speeds for a more aggressive breaking of particle groups.
The Intensifier is mounted at the inlet of the Matcon IBC exposing it to the powder flow as the IBC travels through the inverted section of its rotation path. This greatly increases the shear and convection mixing process within the IBC industrial mixer. The Intensifier blades are designed to breakdown agglomerates in raw material allowing particles to be integrated into the powder mass, whilst at the same time preventing the formation of agglomerates from cohesive inter-particle forces, liquid bridges or free fats.
Multiple applications
As mentioned in a previous blog, it is possible to scale up the parameters of the rotation speed to ensure a successful mixing no matter what the size of IBC or batch size. For more information on industrial mixer technology read our previous blog post: 'Dispelling the Myths Surrounding Industrial Mixer Technology.'
The Intensifier has also been developed for applications with a high sugar content and for adding liquids during the blending process. If you would like to know more about these very specific applications then please do contact us.
For more information on blending and how to overcome the challenges of blending different powders visit our blending resource.
The proof
We encourage our customers to visit our full-scale Test facilities to perform blending trials with their own powders, to give them confidence when placing their capital investment. Click here to find out more about our test plants.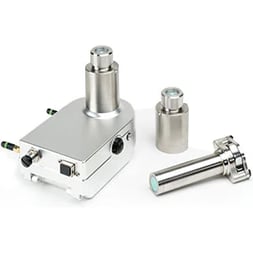 We are able to ascertain when a blend is homogenous and the blend times needed for each recipe as we offer NIR (near infra-red spectroscopy) as part of the trial. NIR is able to give real-time feedback and removes the need for invasive sampling, which can be prone to error. Our customers use this information back at their own factory to optimise the blending times, not only do they reduce the amount of product scrap as everything is now perfectly blended, they often find that a couple of minutes saved per blend means they can process a couple of extra batches per day.
Click on the link below to access our free checklist tool that will help guide you towards making an informed decision.