Handling numerous product recipes and maintaining high hygiene standards while keeping manpower and production costs low is a major challenge for the food industry. Having the wrong industrial mixer in place often makes matters worse.
This was the challenge faced by a market-leading tea grower in Malaysia, producers of a range of three in one tea mix drinks. Whilst they were the first to be accredited with ISO 22000 certification for complying with worldwide food safety standards, they realised further investment was required to maintain their exemplary hygienic manufacturing and quality standards.
A Demanding Brief
The manufacturing operation they were looking for needed to allow simultaneous multiple recipe production, with quick changeovers and clean-downs. It also needed to use their existing floor-space yet have the ability to expand in the future.
They looked to Matcon to help them achieve these exacting criteria. By installing a future-proof powder handling system using Intermediate Bulk Containers (IBCs) Matcon's solution meant materials could be transported between manufacturing steps including the all-important blending stage.
Decoupling all the different process steps meant the tea producer could operate each, concurrently, as a stand-alone stage of the manufacturing process. And because the materials move between each production stage in IBCs, product flows smoothly around the system; no more waiting for one step to be completed before moving on to the next. With processes being continuously fed, the tea manufacturer experienced a significant increase in Overall Equipment Effectiveness (OEE) rates and plant productivity.
The Right Industrial Mixer
At the heart of Matcon's system is reliable, yet flexible, IBC in-bin blending. It enables instantaneous recipe changeovers as product is mixed within the IBC itself and does not come into contact with the blender. In fact, a number of different recipes can run throughout the process simultaneously without risk of cross-contamination as the system remains closed at all stages.
In this installation, the small footprint of the blender also meant that the new IBC system fitted neatly into the space available, with room for future expansion.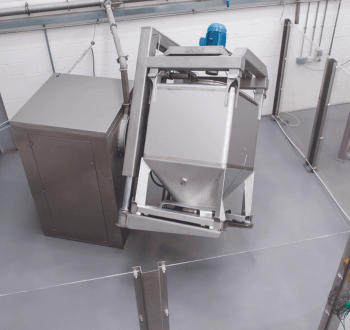 Chief Technical Officer (tea company)
"We chose Matcon as our powder processing partner. Their Lean Powder Handling Solutions and unique technology will help us achieve the highest product quality, yet full flexibility, for our increasing range of products and help us grow in the years to come."
With the Matcon IBC system, the tea company has been able to achieve a fully flexible manufacturing facility, maximising their throughput with the minimum of equipment investment.
With over 35 years' experience supplying IBC systems around the world and across a range of food sectors - including infant and sports nutrition, food flavourings, beverages and bakery - Matcon knows what it takes to ensure your industrial mixer works for you not against you.
To help you choose the right blender for your business, download our latest whitepaper where we share our inside knowledge.