Do you wish that your production facility had a fast-forward button? Do have a desire to be agile enough to respond with the fastest delivery times without compromising on recipe quality or consistency? Would you like to have the ability to multi-task recipe variants without the risk of contamination? Learn about the manufacturer in our case study who is like so many companies that we help with challenges like these and more…
Manufacturers Don't Have to Increase Square Footage To Make Improvements
Your production facility may not need a dramatic transformation and most buildings are limited to their existing square footage. Therefore, we are focusing on the significant changes that can be attained by using the space you currently have. Most manufacturers welcome useful advice on how they could speed up their production process or tweak their production methods to improve efficiency, especially when the results are so remarkable from an ROI perspective, the saved costs and time experienced by our customers are staggering.
Read the success story of a Bakery Ingredients Manufacturer here:
Multi-Task to Save Time and Increase Production
By using sealed containers such as Matcon IBCs (Intermediate Bulk Containers) you will have the ability to complete multiple processes simultaneously. Whether filling, blending or packing, the IBCs can be transported between each station in your facility.
No More Waiting or Idle Equipment
Waiting for your blender to be filled, ingredients mixed or packing to be completed can be frustrating, especially if you then have to complete the time-consuming task of cleaning before re-using these stations. This is costly downtime which you don't need to suffer any longer. You can begin to improve the efficiency of your current system immediately with contained processing and transfer, which means that cleaning will no longer halt production.
How to Significantly Reduce Your Current Blending Times
Mixing liquid and solid fats into a recipe can become a two-step process. This is mainly due to the need to mix the fats and sugars before any other ingredients can be added. The Matcon Blender has been developed to include the addition of a supplementary Intensifier, which can reduce blending time down to just 12 minutes per batch. In addition the IBCs can be filled before and prepared ahead of the blending process allowing you to formulate your recipe and blend simultaneously.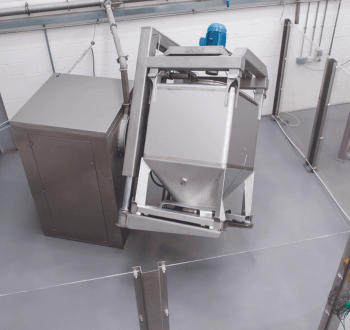 No More Cleaning
By using IBCs the blending operation takes place within the container itself. The IBC is clamped within the blender frame automatically and then tumbled creating a homogenous mix of the ingredients inside the IBC. The obvious outcome in using the container itself rather than a fixed system is that there is no longer any need to stop production in order to clean the mixer between recipes. This also applies to recipes containing allergens as there are no contact parts at risk of contaminating the next batch.
Reducing the Risks of Cross-Contamination are of Vital Importance to Manufacturers
Along with an ultra-clean working environment, contamination risks are a key focus for manufacturers. The Matcon formulation modules are designed with this in mind. The closed transfer of materials from sack to IBC ensures that powders are contained therefore minimising the escape of ingredients reducing dust and wasted product. Ultimate Quality Assurance can be achieved due to the 3-in-1 Sack Tip's permanent magnet. During the filling stage, all the ingredients are sieved and passed over the magnet. The sealed IBC units permit manufacturers the capacity to produce multiple recipes of any ingredients without the worry of contamination.

Proficient Packing Equals High Quality, Consistent Batches
Using Intermediate Bulk Containers and loading them onto the Matcon Discharge Station facilitates the feeding of the product into the Packer without the need for any further equipment. Within the IBCs is the adroit Matcon Cone Valve which seals the IBC when mobile and ensures against product segmentation when discharging. This particular valve is also adept at dealing with 'sticky' recipes ensuring their consistent flow. Not only is this time and operator saving but it also ensures your products are of the highest quality and that every batch is uniform.
ROI Expectations
Reducing the time it takes to clean and having the ability to run multiple process steps simultaneously means that productivity can increase. This allows you to produce a wider range of recipes and batch sizes, as quoted in the case study "enhance your product range, improve flexibility of pack sizes, enhance quality assurance and customer service."
Read the full case study for more details on how you too could enhance your production processes and achieve ROI.