Now in it's 26th year ProPak Asia 2018, is a leading International Processing and Packaging Technology event in the South East of Asia region. The events' aim is to bring together manufacturers and professionals from across the rapidly expanding processing and packing industries.
The Matcon SEA team was in attendance at this year's ProPak Asia, together with our Thailand representatives Pacific Intertech. The event provided a great platform to meet up with existing clients, discover new prospects and showcase Matcon's unique products.
Following this year's successful event we gathered a review of the week from Matcon's SEA Business Development Director Dave Newell and Sales Support Team Member Rina Wong.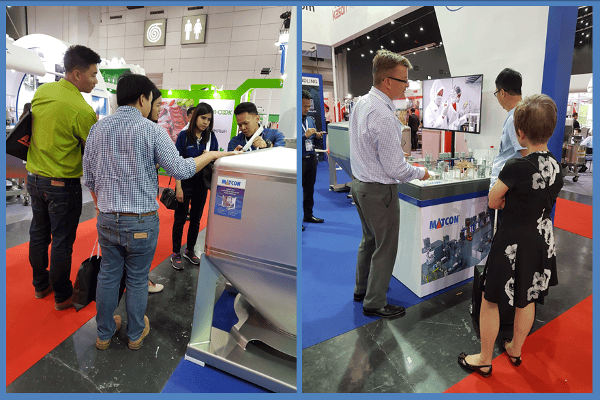 How did the event compare to last year?
ProPak Asia is a large event and we get to speak to a lot of delegates, some of the days that we attended were busier than others, which could be due to large events such as Achema being held at the same time and national public holidays in the region. The Matcon stand was however very busy and the number of delegates visiting for discussions during the week was higher than last year.
Who did you meet at this year's event?
The event in Bangkok aims to attract over 50,000 visitors, so with over 39,000 delegates attending the first few days our stand was busy!
We met with some of our regional agents and caught up with existing customers from across Thailand, Malaysia and Singapore. There was certainly a global feel to the event as we discussed our manufacturing solutions with delegates and exhibitors from over 13 countries (Australia, China, Denmark, France, Germany, Italy, Japan, Korea, Singapore, Spain, Taiwan, UK and USA).
What were the products and services you discussed the most during the event?
We were pleased to discuss the full range of Matcon technology, delegates were particularly interested in our IBC technology. On each day we were often asked about our approach to blending using IBCs, which was a great opportunity to explain the benefits of using a contained system and the ability to run multiple manufacturing points (simultaneously).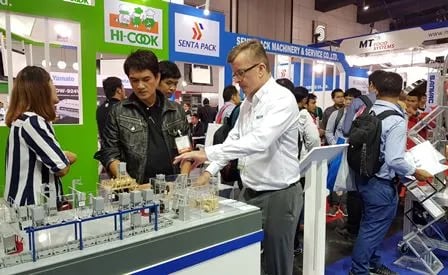 What were the main areas of interest at the event?
Many delegates were looking for suppliers to upgrade their existing factories with the aim of increasing efficiency. We also found a large number were experiencing powder flow problems such as segregation, so having a Cone Valve on the stand allowed us to demonstrate how a Matcon solution can solve many of these issues.
Across the three days, we spoke to people with varied roles including Production Managers, Senior Managers and Managing Directors. All had one common goal - to improve efficiency.
As the market is developing in Asia how can Matcon continue to support manufacturers?
We are already working on a range of projects across SEA where we have found ways to increase throughput. Our approach to blending has been successful in saving manufacturer's time as they can now continue to mix their powders, whilst simultaneously loading and cleaning IBCs. This is a new way of processing for some manufacturers which has demonstrated a clear return on investment.
To learn more about Matcon's technology or to get in touch with Dave and Rina directly please use the contact us form.