In January 2019, the Matcon team for South East Asia, Joel Low and Dave Newell travelled to ProPak, held at the World Trade Centre Metro Manila, Pasay City. This was the inaugural event for the Philippines, following on from the successful processing and packaging industry events held in other parts of the region and included over 280 machinery and technology exhibits.
Who attended ProPak Philippines?
There were approximately 12,000 attendees over the three-day duration of the show we were pleased to welcome onto our stand existing Matcon customers and new potential clients with current projects. Our local agent partner Handyware also provided great support throughout.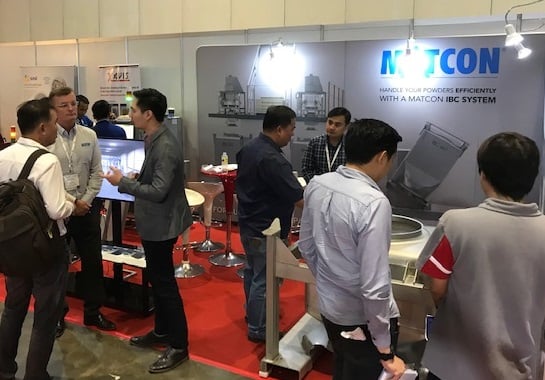 What industry was best represented at the event?
The three-day event was attended by professionals involved in the Food Industry predominantly, although we also had some good conversations with personnel from Chemical and Pharmaceutical companies. On the stand, the Matcon team had many opportunities to explain the benefits of Cone Valve IBC technology and how Matcon systems deliver a range of benefits to companies in the food sectors including, bakery pre-mixes, biscuits and beverages.
What were the common topics being discussed at ProPak?
IBC Blending was the main area of interest, with a lot of companies keen to understand the gains in efficiency provided by adopting this in a parallel processing concept. The hygiene and dust containment benefits of IBCs was also a key topic of interest. Many of the companies we spoke to are keen to expand and improve their production processes, with their aim being to reduce the cost per Kg and labour whilst increasing efficiencies to protect the IP of the product. A Matcon system is proven to help manufacturers achieve this.
Did you think that the first year of ProPak Philippines was a success?
Yes, ProPak was a hugely successful show and the perfect platform to present our IBC Systems to a market witnessing strong and dynamic growth with further potential to expand throughout its food, drink and pharmaceutical industries. We look forward to returning to ProPak Philippines again in 2020!