Whether you're just starting out as a sports nutrition manufacturer or need to upgrade your existing equipment, choosing the right production system is crucial to your business success. There are plenty of options out there, from simple set-ups to complex combinations, which can be baffling if you're not familiar with the market and its terminology. Also, you need to be sure that the equipment you install will be efficient, flexible and future-proof. This blog outlines why Matcon ticks all the boxes when hunting for your perfect powder partner.
Reassuring Experience
Established in 1980, Matcon has over 35 years' experience in bulk solids handling solutions. When choosing us you'll be partnering with powder handling experts who work with you to design the best long-term solution for your particular business needs. A flexible manufacturing system that can be adapted and upgraded as your business grows, and which tackles some of the major powder production challenges.
Our in-depth knowledge and experience from a range of industries, allows us to learn from best practice in each industry for the benefit of all. Improving product quality and production processes, and eliminating waste are our passions. Give us the challenge to give your business a competitive edge and we'll happily rise to it.
The Sports Nutrition Specialists
Matcon works with sports nutrition manufacturers around the world. We understand the challenges of your industry:
Demand from customers for innovative new products which increases the number of changeovers needed during a production shift.

The sticky, poorly-flowing consistency of whey powder and new plant proteins which compromises some equipment.

The increase in allergens in new recipes which means more clean-downs and cross-contamination risks.
Despite these unique issues, we've designed highly-efficient systems that have helped sports nutrition manufacturers grow their businesses: they've met the whims and peaks of consumer demand, whilst reducing waste and improving their production efficiency.
Unique Patented Technology
What sets Matcon apart from the rest is our Cone Valve technology which was invented and developed by us.
This unique discharge device is included in all our Intermediate Bulk Containers (IBCs) and has revolutionised powder handling. Cone Valve IBCs succeed in overcoming a range of powder handling issues from bridging and to segregation and core-flow.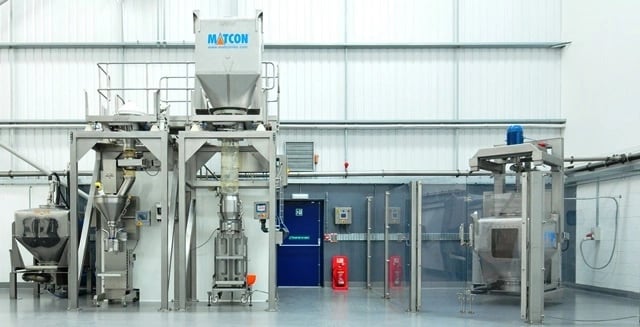 The Matcon Approach to Sports Nutrition Powder Production
Choose Matcon and our expert engineers will guide you through your installation process step-by-step. Whether you need a basic start-up IBC system or a multi-mixer set-up with multiple packing lines, you'll get a flexible manufacturing system to get the job done with maximum efficiency and minimum fuss. Our powder handling systems are based on a modular design which enables you to expand and add capacity as your success as a sports nutrition manufacturer grows.
Our world-renowned technology is backed up by a team of specialists who strive to give you the very best in systems and service. Expert engineering design knowledge and specialist practical skills allow us to carry out detailed studies and full-scale testing to provide the perfect solution for your business.

Your System Will be Individually Designed Just for You
And once it's up and running, you can take advantage of our maintenance plans to keep your equipment in first-class condition. This will boost efficiency and reliability, reducing the chances of costly downtime. We only use original, high-quality spare parts to protect your investment and make sure your business keeps running smoothly with minimum lost time. Our team of global account managers will give you all the technical support you need.
When the time comes to upgrade, as your success sky-rockets, we'll give you professional advice to take your production line to the next level and maintain your competitive edge. From multi-floor processing designs and high-level equipment to increasing the number and size of your IBCs, Matcon have been there. With offices and test facilities in the UK, USA, South East Asia and China, Matcon works with some of the world's most famous household names and we'd love to add your business name to our list of satisfied sports nutrition manufacturers.
To learn more about our approach to powder handling and efficient manufacturing then download our free whitepaper below.