There was a lot to see and do at PACK EXPO International 2022. With over 44,000 attendees and 2,000 exhibitors, there was no shortage of networking opportunities. We were delighted with the turnout at our booth and had many meaningful conversations with prospective clients.
Here are some key takeaways:
Profitability increase - In today's business environment, manufacturers are under constant pressure to keep up with the competition while limiting the impact of rising costs on consumers. To stay ahead of the curve, companies want to increase efficiency and profitability. The Matcon Cone Valve IBCs system

is the perfect solution.
Our system design decouples manufacturing steps, creating the ability to parallel process so that formulation, blending, packing, and cleaning takes place simultaneously. This maximises the productive hours of work in the overall manufacturing process. In addition, our system follows the principles of Lean Manufacturing, which cuts waste and increases efficiency. By streamlining the manufacturing process, our system can help companies save time and money while staying competitive.
Flexibility is key - The shift from high to low volume with increased product variety requires manufacturing plants to become more flexible and agile. This is mainly driven by consumer trends, demands for a greater variety of flavours and shortages in the supply chains.
Our system allows manufacturers to produce multiple recipe batches in various sizes without compromising production capacity and efficiency or increasing the amount of product held in stock.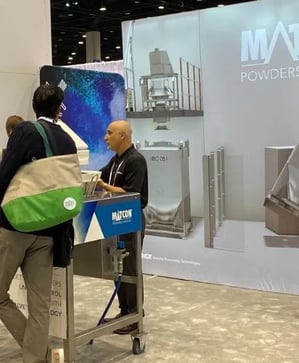 This allows manufacturers to respond quickly to changes in consumer demand and offer a more comprehensive range of products while minimising waste and inventory levels. As a result, our system provides a significant competitive advantage for manufacturers who are looking to stay ahead of the curve.
Allergen management is more important than ever – Quality is an important cost centre for any business, but manufacturing safe products of high quality is paramount to addressing consumer demands, limiting allergen recalls and complying with regulations.
Traditionally, static/fixed mixers and the equipment & conveyors coupled to them are difficult to dismantle and clean between each recipe batch. This also takes operators a significant amount of time to clean and validate. Most importantly, while the clean-down process is taking place, production has to stop.
The Matcon solution uses Intermediate Bulk Containers (IBCs) to not only transfer powders between each production stage, but it also becomes the mixer container. As all the materials are contained and sealed within the IBCs, there is no cleaning between batches, enabling products to be manufactured with high quality and safety.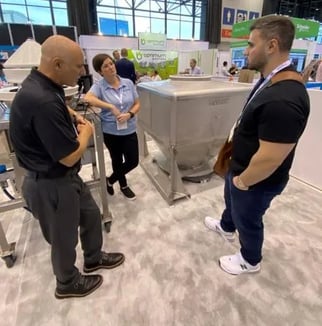 In addition, the IBCs can be quickly and easily cleaned offline, which reduces operator downtime and allows production to run continuously without interruption. Consequently, businesses using the Matcon solution can improve quality control while reducing costs associated with a product recall, batch rework or waste.
Sustainability is a top priority - Our commitment to sustainability means that we are constantly striving to find ways to reduce our environmental impact whilst still providing the best possible service to our clients. Our powder handling solutions are designed to be as efficient and effective as possible in order to reduce product waste and increase output for manufacturers.
We use only high-quality materials in our designs so that you can be confident in their reliability for years to come. By choosing to work with us, you can be reassured that you are supporting a company that is dedicated to making a difference.
Manufacturing is a complex and challenging process, but our team of experts has the knowledge and experience to help your business succeed. Our powder handling systems are designed for flexibility and profitability, ensuring that you can stay ahead of the curve.
We understand the importance of quality and safety in product manufacturing, and our commitment to excellence ensures that you receive the best possible service. Let us show you how we can help streamline your manufacturing process and improve your bottom line. Contact us now!