Whether starting a sports nutrition business, growing an established company, or updating equipment it is important to use the most efficient and right equipment to suit your business.
Before investing in that new industrial mixer, packing station or cleaning equipment, it is vital to know what return your investments are likely to make. Matcon has devised a handy savings calculator for manufacturers to download to do the sums for them.
Why We Needed to Create the Calculator
Customers are always asking us how we can help them become leaner, more efficient, and better than their competitors. From Sports Nutrition to Pharmaceutical Industries the calculations need to be done in a similar way. The calculator is something that our customers can use themselves to improve areas of production and save costs on an ongoing basis.
It's easy to use and has become an invaluable tool for manufacturers to discover savings at each stage of the mixing process. By inputting a few values, a sports nutrition manufacturer can receive a tailored ROI calculation based on current production values.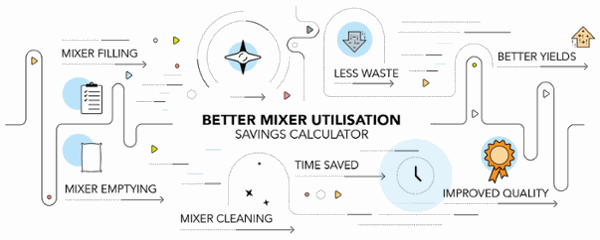 How to Use the Calculator
Select the processing area that you wish to start calculating and saving ROI first. Each page refers to a different stage of production.

Input your values in the "Your Company" fields and get instant results calculated in the green boxes.





Review your custom results and also the gained savings accumulated on the final page.





Move on to further pages to find out how to save in other processing areas.





Return to the calculator as and when you make changes to each area of processing. This will ensure that you are as efficient as possible. View how much you can save by making some minor changes to your manufacturing methods.
Choosing the Most Efficient Equipment to Suit Your Business
After investing in top-quality ingredients, and spending time creating recipes and blending, it is vital that sports nutrition manufacturers invest in the right equipment to handle these ingredients.
A modern manufacturing method using container-based materials transfer will help Sports Nutrition Manufacturers to optimize their profits, by eliminating waste and choosing the right container design they will protect their high-quality ingredients by ensuring that the blends do not de-mix in transit meaning the entire mix has to be re-blended or even written off.

Matcon IBCs (Intermediate Bulk Containers) come in a variety of shapes and sizes to suit batch quantities, a single blender can accommodate a range of IBC sizes making this the most flexible system for a sports nutrition manufacturer. Because the product is contained and blended in the container, there is no risk of contamination from previous recipes or from the transfer of unwanted allergens into non-allergen products.
The unique Cone Valve technology within each IBC ensures that the product is discharged under mass flow, ensuring that there is no de-mixing of the blend, resulting in a quality product every time.
Matcon's IBCs are the cost-saving, versatile and lean solution that sports nutrition manufacturers are looking for. Use the calculator today to help you find out how much your business could save.