Be a front runner with Matcon's competition-beating Technology. We do things a bit differently at Matcon compared to other suppliers. Whether you're setting up a shiny new production line or are looking to upgrade, our system offers a number of key business benefits: Increased production capacity, improved product quality and manufacturing flexibility. Here we explore why, when it comes to manufacturing sports nutrition powders there's simply no competition.
The Problems with Fixed Powder Mixers
You'll probably be familiar with the fixed mixers which are traditionally used within the production process. It's unarguable that these mix ingredients effectively, but their production capability limitations are becoming more obvious as market demand changes. For instance, they take hours to clean between recipe batch changes causing unnecessary downtime. The bottlenecks created can bring production to a shuddering halt. These fixed mixers may have been relatively cheap to install but they are rapidly proving to be an unwise choice when looking for a long-term powder-mixing solution.
The Solution to Fixed Powder Mixer Issues
There is an alternative. Matcon's agile production system moves away from fixed mixers and instead uses container based blending and materials handling. By decoupling the manufacturing processes, each stage becomes autonomous, so you can formulate, blend, pack and clean with maximum flexibility and efficiency as all steps work in perfect harmony. The Intermediate Bulk Containers (IBCs) give unbeatable operational flexibility, they can be used both on and off-line, meaning that down-time for changeovers is kept to an absolute minimum. Because the IBC becomes the blending vessel, there is no downtime for cleaning. A newly formed IBC is immediately placed on the blender and a new batch is produced. Meanwhile the blended IBC discharges a batch to packing. Since they are created as a modular system, you can expand your set-up whenever you need to increase production.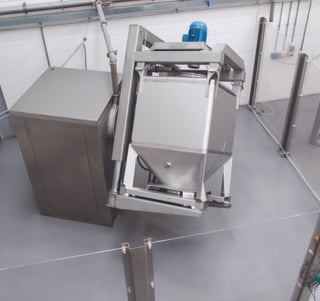 What Makes Matcon Different?
Matcon is the original inventor of the 'Cone Valve' IBC. This distinctive discharge device is included in all our IBCs and has transformed the powder handling industry. Cone valve IBCs overcome a range of production issues for example:
Powder Bridging

Mix segregation

Core-flow or ratholing
All types of powder flow smoothly and consistently, ensuring the discharge process is an unproblematic one. Powders can be controlled during transfer and automation of the process is possible.
With 35 year's expertise in the powder handling industry, our evolutionary equipment can overcome your challenges as we have overcome those of many sports nutrition manufacturers before you. Whether you are looking for a bespoke Matcon system or more flexibility within your current processes, our expert engineers work with you to create the perfect solution.
To learn more about Matcon solutions and our approach to 'parallel processing' then download our latest free whitepaper below.