Matcon are experienced in helping our Customers efficiently manage and process the materials used in Lithium-ion Battery production.
As the battery market grows, so does the demand for production capacity and the importance of safe, effective practices. This not only means higher outputs but increased margins from efficient, lean practices. In this blog, we look at some of the common challenges faced by manufacturers who use powder handling systems to manage the materials used in Lithium-ion Battery Production and advise on best practices being used by global providers.
Common Challenges in Lithium-ion Battery Production
In our experience of the Battery sector, we see a high degree of variation in the way that each of our clients handles and processes their battery material. Many manufacturers of lithium-ion batteries have their own unique set of requirements specific to their production system objectives.
The hazardous properties of the powders used in battery manufacturing and the particle size characteristics and properties of the materials mean that these are consequently problematic to handle. The safety of operators, equipment and facilities is a key factor and therefore any handling of harmful lithium powders requires contained safe, secure, and efficient powder handling equipment.
We see across the globe that some of our clients not only need to mitigate against dust creation but also control very fast-flowing powders; whilst for others, the mix is a different composition and results in issues with getting sticky powders to flow. ​
We also have clients who are transporting materials in bulk between sites and need robust contained units to enable this process to be efficient and safe.
Ultimately, across the manufacturing process, we need to make allowance for hazardous powders in the battery sector and risks such as powder temperature maintenance to avoid changes during flow making the powders potentially explosive.
The powders involved are also made up of materials that can be moisture sensitive. These need to be treated carefully to avoid waste and equipment degradation.
Efficient, Safe Material Handling
A Matcon system uses IBCs to transport powders between manufacturing steps, for blending and for effective discharge. Whilst the system is made up of a range of modules, each can be configured to suit a customer's unique requirements.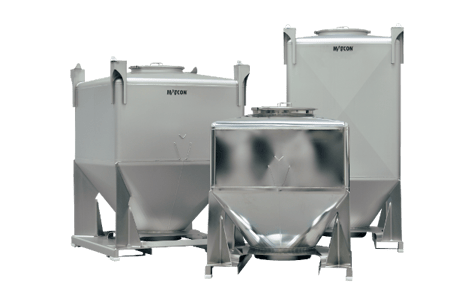 As all materials are contained within the Intermediate Bulk Container throughout processing, the risk of moisture getting into the powders is removed whilst materials cannot get out, leading to safety improvements.
To ensure complete end to end safety, IBC systems can also be fully automated, enabling you to control previously difficult to handle powders without manual interventions and risk to operators, expanding your materials handling capabilities. To support this processing approach Matcon can provide:
Automated Materials Handling Systems and Equipment
Automatic Docking Unit - offers fully automated dust-free IBC filling
Semi-automatic Docking Unit - reduces operator intervention compared to manual unit
Discharge Station provides a dust-free connection & discharge procedure
Effective Discharging of Materials from IBCs
Controlled powder discharge with Cone Valve technology inside each IBC ensures mass flow of materials to deliver effective powder handling.
Accurate discharge control for reliable powder dosing.
Sticky powders encouraged to flow without mix segregation
High flowing powders can be controlled without spillage
Product integrity and quality assured
Reduce or eliminate powder degradation
Weighing Systems for Lithium-ion Battery Production
Controlled powder discharge with Cone Valve technology
Accurate refreshing of loss/gain in weight systems
Varistroke station enables full control of discharge
Quickly refill downstream equipment
Positive shut-off of product flow after refilling complete
Suitable for Continuous or Batch processes
Intermediate Bulk Container Blending for Materials used in Battery Production
Material contained within IBC – no cross-contamination
No cleaning – immediate changeovers
Traceability of batches in each IBC
Heavy-duty options for high-density powders
One Blender – multiple batch sizes using IBCs from 300L to 3,300L volume
Adjust batch sizes further by filling IBCs 20% - 80% of capacity
Cleaning Solutions for Battery Manufacturers
Cleaning with air via the Air-wash station
Pressurised air used to expel powder dust & residue
Waste collected by dust extraction unit
Fast cleaning process – no need for drying time
The process can be validated
Automatic cone lifting – reduces risk to operators
A Matcon system provides an answer to all the industry sector needs by offering:
Flexibility to change blending batch sizes according to demand & remove bottlenecks​
Automated, contained powder handling and discharge for a dust-free environment​
Poor flowing or sticky powders are controlled during discharge, no powder degradation​
Packing without cross-feeders or vertical screws, GIW/LIW refilling capabilities direct from the IBC​
Moisture control as the system remains closed​
Certified for safety
Operators are protected during the handling of materials and IBCs
ATEX 20,21,22 for any powdered battery material
UN/DOT certification for road transport enabling safe movement between sites
Inert gas blanket providing connection for gas flushing
Bespoke, Materials, and Equipment to support your manufacturing process
Matcon are process experts, who can supply materials handling equipment with product contact and non-contact parts in material to suit your particular needs. Our standard solutions come with Stainless Steel, Mild Steel and Polyethylene with the ability to apply inert coatings if applicable.