Getting ahead of your competitors relies on providing a wide range of products to meet ever-changing customer demand.
But the proliferation of new product variants is a major stumbling block to achieving maximum throughput. Why? Because more recipes mean more changeovers, more cleaning and increased idle time. All of this adds up to a longer end-to-end process and fewer batches being produced per shift. Having the right equipment in place can significantly reduce the time spent on profit-sapping activities between recipes.
The Challenge: Fixed Mixer Bottlenecks
The fixed nature of many mixers means they create a bottleneck when recipe changeovers and cleaning are required. The blender must be taken out of commission, so it can be thoroughly cleaned. This can take anything from half an hour for dry powders to a full eight-hour shift for wet and dry clean downs.
If several recipe changes are required throughout the day, a fixed mixer is highly inflexible and adds significant amounts of time to the end-to-end process therefore reducing equipment operational effectiveness significantly and mitigating the number of batches that can be produced.
The Solution: Intermediate Bulk Container (IBC) Blenders
Using IBCs turns a rigid inline process into a highly flexible one. By enabling product to be mixed in movable containers that are loaded onto the mixer, changeovers can be made instantaneously.
As the IBC becomes the blending vessel, no product comes into contact with the blender so the only item that needs to be cleaned is the IBC itself. This can be carried out offline allowing the blender to go straight back to work with another batch. This means that up to four different recipes or batches can be completed per hour.
Compare this to a traditional blender that will sit idle for up to eight hours per changeover and the advantages are instantly obvious.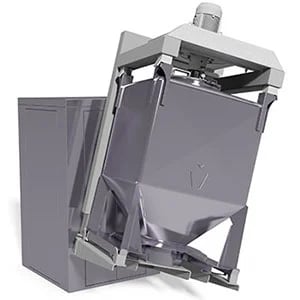 The Challenge: Ease of Cleaning
If you are buying a new mixing solution think about how long it will take to clean between recipes. Look for a well-designed mixer that has removable paddles and shafts. Also, ensure corners and joints can be efficiently and safely accessed for easy cleaning. This will this save your team time, effort and be easier to ensure it is fully cleaned with no risk of cross contamination.
On the other hand, IBC blenders enable you to save time and improve efficiency because only the container needs to be cleaned. As the product mixing cycle completes and once the product has been discharged, the container can be removed from the processing line to be cleaned and another mounted onto the mixer in its place allowing production to continue unabated. The simple design of the IBC allows for quick and thorough cleaning.
There are multiple benefits to this approach including:
Significantly enhanced OEE rates

Reduced requirement for shift and a potential to save wage costs

Ease of cleaning

Improved productivity

Reduced risk of allergen cross-contamination due to easier cleaning

Enhanced ability to run smaller batches and a wider range of recipes

Containers can be used for recipes containing allergens and then for allergen-free recipes

Blending to short order times
Installing an IBC industrial mixer is the perfect way to increase the productivity of your facility. Not only will you get more from your equipment while controlling costs and contamination risks, but you could introduce additional recipes at the same time. It's the ideal combination for maximum flexibility, enhanced efficiency and ultimately, a better bottom line.
Download our guide to choosing the ideal industrial mixer below or browse our industrial mixer resource that contains all you need to know about specifying and using blending in your powder production process.