The International Powder & Bulk Solids Conference & Exhibition is known as 'the leading event for professionals in powder and bulk solids technology'. Held in Chicago last month, the event attracted over 3,500 industry professionals from the world of powder processing and bulk material handling.
Spanning a range of industries, including food, pharma, chemical, building materials and metals, this year's show saw a large number of engineers discuss regulatory issues, new products, technology and practices. As with all of the exhibitions attended so far this year, the Matcon team enjoyed meeting new people and catching up with existing customers. We spoke to the team after the event to learn more about the 2018 Powder Show.
What were your thoughts on the 2018 International Powder and Bulk Solids Show?
"With increasing information available with a click or a swipe, exhibitions have evolved over the last decade. The 2018 Powder Show exemplified this. We have seen that the delegates attending the show visit for a specific purpose. This could be to discuss a particular application, to learn about a certain technology or to connect/network with industry professionals".
What did you enjoy most about the show? How do you think it will change in the future?
"Over the years, we have noticed that delegates were rushing around from booth-to-booth with little time for discussions. With the changing state of the event, we felt that each company visiting our booth was open to sharing further information about their needs and learning more about how our value proposition aligns with those needs. Ultimately, we really enjoyed the chance to network and make connections. We feel that exhibitions will continue to evolve in this way".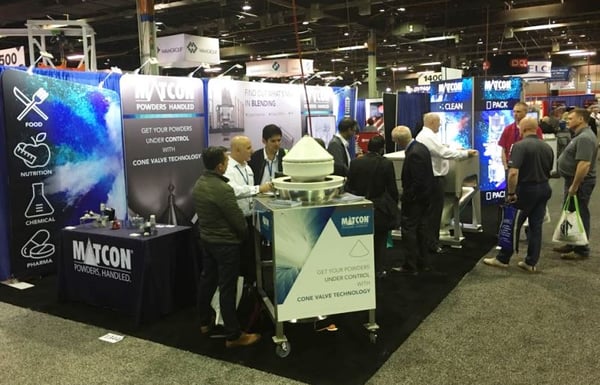 What was the range of delegates like at PBS (Numbers, Location, Roles, Organizations, etc.)?
"This year we did notice that the event has become less international and more regional (within a few hundred miles of Chicago). This aligns very well with Matcon's presence in the food and nutrition world as many of the manufacturers in the Midwest are supplying food and nutrition products. The show has traditionally had a diverse mix of both job roles and types of organizations".
Were there any common innovations or themes at the show? How can Matcon support these?
"Although most of our time at the was spent on the Matcon booth, we did tour a number of other booths and talked with other equipment manufacturers. There were two themes that stood out – safety and production efficiency. There has been and continues to be a lot of focus on NFPA guidelines and dust explosions. One mantra of a Matcon IBC approach is dust containment instead of dust control. This overcomes several of the issues that many companies are trying to solve with other technologies, most notably pneumatic conveying.
We also learned about companies producing equipment that disassembles for quick cleaning to minimize downtime during recipe changes. This also aligns with the design of a Matcon IBC Blending System as the blender doesn't have any product contact surfaces. Cleaning of the blending vessel is done offline to maximize efficiency".
How will Matcon follow up after this event, what is next in the US Market?
"We have already scheduled a number of site visits to assess specific applications that were discussed during the exhibition. In fact, one booth visitor is actively looking to take advantage of our state-of-the-art test plant in Delran, New Jersey. As we continue to promote an IBC Blending approach as an alternative to traditional fixed blenders, our test plant is becoming an ever more important part of our toolbox. A focus on further improving our capabilities and the overall customer experience for visitors to the test plant is next up on the Matcon Americas calendar".