Matcon is pleased to present the new Pilot Scale Blender, a new innovation in powder blending that will expand the capabilities of an IBC Tumble Blending into pilot scale processing.
Developed by Matcon's team of powder handling experts, the Pilot Scale Blender offers the convenience of mixing low-volume batches at any given moment. This blender is specifically designed for mixing smaller recipes of powder with the existing benefits of a production scale IBC Blender, making it perfect for testing the proof of concept in recipe development or for producing high-value, low-volume powder batches.
Proof of concept powder mixing
Inspired by the requirements of the battery, chemical, food, and pharmaceutical industries, manufacturers can rely on the Pilot Scale Blender for testing the proof of concept with their powder recipes or for producing smaller batches that require a scaled-down alternative to full-sized production.
With the addition of the Intensifier, the blender's mixing capability is enhanced by incorporating high shear into the blend. This feature also extends the range of recipe development possibilities. Furthermore, there is an option to include a MicroNIR Spectrometer, which provides valuable information on blend homogeneity.
The Pilot Scale Blender and Cone Valve IBCs follow the same design principles as our production-scale equipment, allowing for easy scale-up if necessary. With Matcon IBCs, manufacturers can also realise the benefits of de-coupled lean manufacturing along with effective powder containment, transfer and processing.
The Pilot Scale IBCs are available in 100L and 200L volumes, equipped with castors for easy movement, and fitted with a Matcon Manual Cone Valve in the outlet. This valve ensures the mass-flow discharge of powders during the blending process, effectively protecting the quality of the blended powders.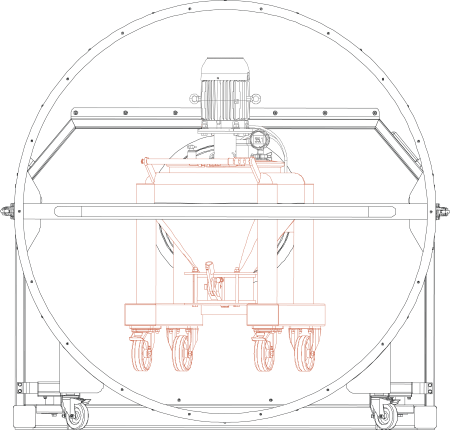 Matcon Pilot Scale Blending - in summary
The blender's compact footprint, integrated controls, and mobile safety guard ensure convenience and safety during operation.
With Matcon's powder blending advantage, manufacturers can efficiently and effectively blend powders and granules, instantaneously change recipes within the blending vessel, and easily scale up to larger volumes using the Matcon Blender range.
The Matcon Pilot Scale Blender consists of a blender pedestal with integrated controls, onto which a Pilot Scale IBC is securely mounted using a simple clamping system. This modular solution is factory-assembled, boasts a proven design, and offers low risk for manufacturers.
The Pilot Scale Blender enables the mixing of any low-volume batch at any time:
An ideal blending solution for high-value, low-volume powders, and recipe development
Rapid batch changeovers as there is no product contact with the blender
No cross-contamination risk as the IBC is the blending vessel and is fully contained
100L and 200L IBCs are available for varied batch sizes
IBCs fitted with Matcon Manual Cone Valve (MCV) in the outlet for mass flow discharge
Compact footprint with integrated controls and mobile safety guard
Optional High Shear Intensifier & Micro NIR Spectrometer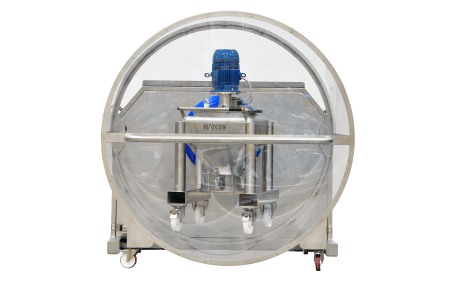 The Matcon powder blending advantage
With Matcon's in-bin blending powder mixer systems, you can ensure that your materials are mixed with utmost effectiveness, resulting in a highly efficient operation with minimal cleaning downtime.
One of the key advantages of using an IBC as the blending vessel is the significant reduction in loading, unloading, and cleaning time. The IBC filling and emptying processes are completely independent of the blender, eliminating the need for any downtime for cleaning and eliminating the risk of cross-contamination.
Industrial powder mixing using IBC Tumble Blending delivers the following benefits:
Improved manufacturing productivity (high OEE rate).
Fast loading & unloading.
No cross-contamination.
Increased product yields.
High Shear Mixing.

An efficient and effective way to blend materials such as powders and granules.

In-bin blending for instant recipe changes without the risk of contamination.

Scale up to larger volumes with the Matcon Blender range.
Intensifier package to enhance mixing capabilities.
Modular solution: factory assembled, proven design, low risk.