When dealing with sensitive products such as Infant Formula and Nutrition and other high containment products, installing the right processing equipment from the outset is vital. From batch consistency to homogeneity, segregation during transfers to validation of equipment washing and drying, from consistent batch ingredients to maintaining hygiene levels.
Infant formula and baby food manufacturers engaged in these sectors have a number of concerns to address. In this article, we share some of the issues we've helped our customers solve.
A note before we continue. Every manufacturer experiences a different set of problems. In this piece, we've picked the common concerns of infant nutrition manufacturers, but if your specific challenge isn't addressed here please contact us so one of our engineers can get in touch.
In addition, we have a free knowledge resource packed with articles, guides and infographics
Four common powder processing concerns for infant formula and baby food manufacturers
Here are some issues that our customers have faced and how we solved them:
How to Maintain Containment of Infant Formula
Powders must not be exposed to the atmosphere during the manufacturing process.
Solution
In order to overcome this issue, Matcon use ADUs (Auto Docking Units) at every IBC filling position which ensure powders are never exposed to the atmosphere. Once powders are inside the IBC, they remain sealed and contained until the blended product is packaged on the canning line. Many sensitive products are manufactured in 'high care' areas with strict filtering requirements and airlocks at production room entrances and exits, however, regardless of the environmental conditioning we ensure that all materials are manufactured in a contained manner with no open transfers.
Moisture getting into your powder recipe
Moisture is a critical concern to baby food manufacturers as it is the root cause of microbial growth. It breeds potentially lethal bacteria which makes wet washing a real problem and is something that most baby food manufacturers seek to avoid.
Solution
Matcon air washing. In a recent blending trial with a global infant nutrition products manufacturer, we weighed an IBC prior to air washing and again afterwards. The two weights highlighted that only 4g of powder was left in the IBC after air washing. With a tolerance this low the manufacturer deemed these results acceptable for the IBC to go back into production immediately.
What happens when a wet wash cannot be avoided as you need to deep clean? There are times where there is no option but to wet wash, as an example, a company's SOP may be that after 5 air washes the IBC must be wet cleaned. Matcon's wet post-washer is capable and shows staggering results:
ATP Swab Test Results After an Air Wash (pre-wash) & Again After a Wet Wash (post-wash) on the Same IBC
The common industry standard in terms of pass/fail for ATP (Adenosine Triphosphate Presence) testing is as follows:
- 0 to 150 - Pass
- 150 to 300 - Caution
- 301+ - Fail
As you can see from the table below, the air wash did a good job at cleaning with only one caution, however, the Matcon wet wash passed on all counts.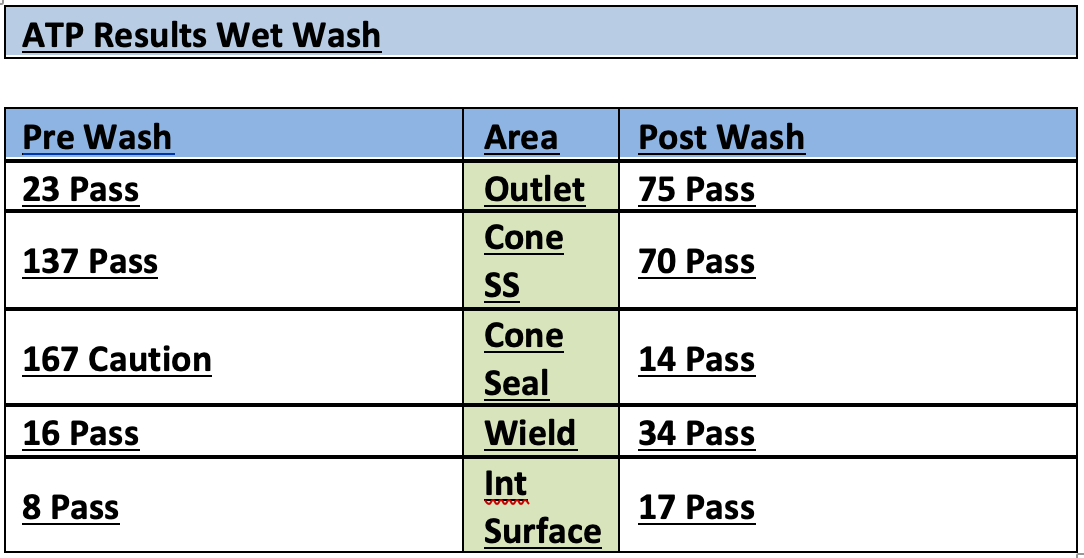 How we achieve these results?
It is vitally important to understand that validated washing systems will offer excellent and repeatable results, however, consideration must be made to the technology being employed. The IBC outlet and Cone Valve are far easier to clean than a butterfly or slide valve, this is due to their simplicity in design with no gaps or traps that can hold water which is difficult to remove.
Blending and mixing equipment for infant formula and baby food
Infant formula contains a number of vitamins and minerals which are added in small quantities. It is essential that these micro and macro additions are distributed evenly throughout the blend. Each company has its own homogenisation thresholds.
The requirement for even distribution of these minor ingredients, becomes apparent during packing. If a 1500kg batch is then split into a number of 1kg or 1.5kg cans, each can must contain the correct proportions of each ingredient.
Solutions for Infant Nutrition and Infant Formula Manufacturers
Near-Infrared-Spectroscopy (NIR) technology, wirelessly attached to the lid of a Matcon IBC can precisely identify when a mix is homogenous. This reduces blending time, prevents over-mixing and eradicates the need for invasive sampling.
Discharging powder formulations
The ability to ensure the right amount of each ingredient is placed in each and every can is essential in infant nutrition manufacture. Especially when you consider the small amounts of vitamins and minerals that each product may contain.

The Matcon Patented Cone Valve. The mass flow created by the Matcon Cone Valve significantly reduces the chances of segregation during transfer to packing. Core flow is a common issue experienced with other discharge devices and are unable to offer a controlled feed to the downstream process.
Understanding Your Industry
Having helped manufacturers from food, nutrition and pharmaceutical industries for over 35 years, we understand the importance of working inline with these regulations.
Food safety is paramount with the perpetual risk of bacteriological contamination.

Milk powders in particular are one of the most difficult to handle due to consistency and poor flow qualities.

Your micro and macro fortified ingredients must be equally distributed in every batch.
We recognize these needs above all else. Our fully contained, stainless steel IBC systems are designed to help you mitigate these risks while delivering consistent quality batches and the kind of profitability all manufacturers seek.
Find out how we helped baby food manufacturer Hero overcame their manufacturing challenges.
Learn more about Matcon's equipment for Infant Formula and Nutrition Products on our Infant Nutrition page.