BOH Plantations, a market leading tea producer in Malaysia responsible for 70% of all tea produced in the country, has experienced increased quality, flexibility and capacity following the introduction of the Matcon IBC system.
The vertically integrated company have operations spanning the entirety of the tea manufacturing process, from cultivation to packing and marketing, and are the first tea producers to be awarded ISO 22000 Certification for complying with the worldwide food safety standard.
The need
To maintain their industry leading position and expand into overseas markets, BOH identified a need to improve their manufacturing processes. Their current system wasn't offering BOH with the lean manufacturing capabilities that they needed to successfully outperform their competition, expand their range and meet consumer demand.
BOH identified key areas that they needed to improve with the introduction of a new system product quality, product flexibility and space utilisation. Matcon were commissioned to implement their decoupled IBC system, to address and deliver on each of these key areas with their lean manufacturing system.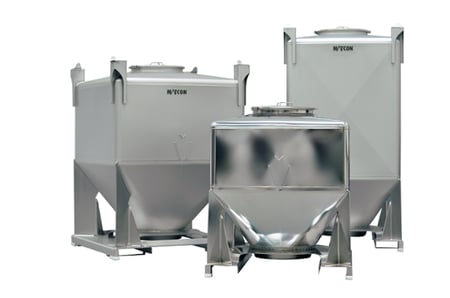 The Matcon System
Having implemented the Matcon IBC system, BOH experienced immediate improvements to their manufacturing process, providing them with the effective manufacturing solution that they had been looking for. These improvements were realised in three key areas – recipe formulation, mixing and product quality.
Faster recipe formulation
With the introduction of the new IBC system, the time taken to formulate a batch was greatly reduced. Minor ingredients are now able to be processed in parallel, with major ingredients being dosed using a compact formulation system, creating an effective recipe formulation process.
Quick mixing changeover
The implementation of the Matcon IBC Blender enabled BOH to achieve a superior blend for all of their recipes, without the need to clean the equipment between batches. As the blending takes place within the IBC itself, the risk of cross-contamination is almost entirely eliminated, along with the downtime associated with cleaning.
Consistently quality product
The Matcon IBC provided BOH with optimal control over their product at the packing stage, ensuring that the product can now be discharged without any risk of segregation or bridging. This is achieved via the IBC's unique Cone Valve technology, implementing integral cone vibration to ensure a consistent and high-quality product.
The Matcon System successfully addressed each of the key areas identified by BOH, creating a production line that guarantees quality product, whilst also having the flexibility to expand their growing range.
Mehmet Aiguel, Chief Technical Manager at BOH Plantations said of the new system: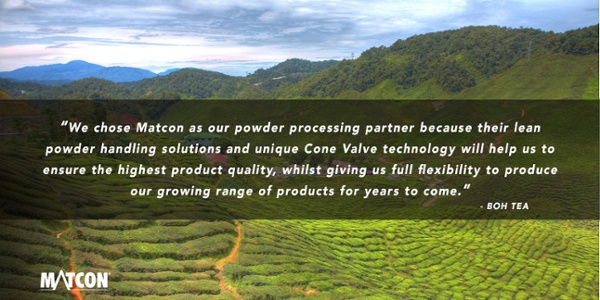 Solving powder handling issues
Matcon are on the cutting-edge of resolving issues associated with powder handling. Their unique IBC system, featuring Cone Valve technology, is used by global industry leading manufacturers to resolve their everyday powder handling issues and to provide them with a lean manufacturing process.
From pharmaceutical and chemical, to food and nutrition manufacturers, Matcon have worked with a host of leading manufacturers to resolve issues such as powder flow, segregation, automation and cross-contamination, providing them with a lean manufacturing solution tailored to their specific needs. With over 35 years of experience in solving the most challenging powder handling issues, Matcon are uniquely qualified to work with manufacturers to create a highly effective and efficient production line.
To find out how Matcon's IBC System is helping leading manufacturers to improve quality and flexibility, including the process that improved BOH Plantation's manufacturing process, download the below case study.