One of the largest global providers of sports nutrition products has enjoyed a successful partnership with Matcon for over a decade. This Midwestern United States based company, has sustained the position of market leader through unmatched product purity, innovation and continually meeting the ever-changing needs of the market place. They have triumphed over the challenges associated with a vast array of product variants.
How it Started
When Matcon first started dialog with the customer, they were a privately-owned facility. Ingredients were manually weighed and dumped into a variety of blenders. Blenders were emptied into rigid IBCs, which were used to feed into a number of packing lines.
The client was motivated to change the existing IBC System for a number of reasons, for including:
Product losses

Valve leakages

The valve system lacked automation, which required operator intervention (even climbing on ladders to open valves)

Issues with powder discharge

Blend segregation along with other common powder flow problems

Lack of a fully hygienic design
Helping the Sports Nutrition Manufacturer
We promoted a value proposition of a superior IBC System containing our unique Cone Valve discharge. The client performed several weeks of onsite trials in one of our test facilities to validate that our technology would actually overcome the issues that had been experienced with their existing IBC System - book our test facility and receive help with your powder issues. Over a three-year period, a Matcon IBC System was phased into replace their existing container system used to collect batches from blenders and refill packing lines.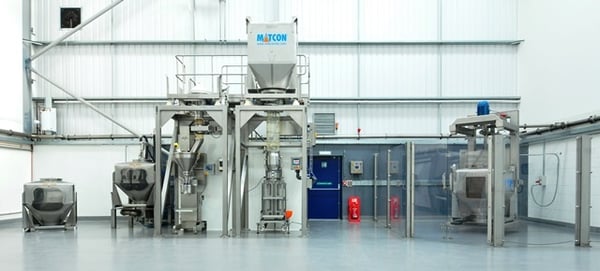 The client was able to easily identify improved product quality, lower the yield losses and make substantial labor savings. The labor savings were realized by a 50% reduction in labor required for the facility's packaging area. Yield losses were reduced from nearly 4% to less than 1%.
A New Facility
When the company decided to build a state-of-the-art facility to match their exponential growth and brand reputation, Matcon was the IBC System design of choice. Collaboration between Matcon, a top Chicago engineering firm and other key suppliers, created a system where 300 CF batches could be produced in under an hour. The client's requested criteria were sixty minutes but Matcon was able to exceed expectations by an actual performance criterion averaging thirty-eight minutes. This has resulted in the client processing on just two lines what usually requires three lines, saving them roughly $3,000,000 USD.
The key pieces of processing equipment maintain an Overall Equipment Effectiveness rate (OEE) of between 60% and 90%, which is nearly double that of the older facility. The production lines have outperformed benchmarks to such a degree that planned future lines haven't been required, saving the customer a tremendous amount of capital.

Discover the Manufacturing Systems Available to You
You could also improve efficiency, save costs, time and product wastage, like this sports nutrition company. Whether you choose to modify the processes you currently have or re-design your system completely, there are three main factory layouts typically used by sports nutrition manufacturers:
The fixed conventional system

The intermediate system

The Matcon system
Our engineers always say that one system doesn't fit all and that working together with the client, a bespoke design is usually required to fit the needs of each particular facility and the products being produced. We have devised a selection of factory layout examples that will help you either improve your processing efficiency within your current facility or help you design a new sports nutrition facility.