Could your tablet manufacturing equipment be working harder for you? Could you make improvements to your production process? Could you improve the quality of your products? The chances are your competitors already are! There are new pharmaceutical facilities opening all the time and they are implementing the latest technology and equipment that the industry has to offer.
In this article we look at some of the best options to enable you to make changes that will not only increase production efficiencies but future-proof your manufacturing facility.
We sat down with Richard Lockwood, Pharmaceutical Business Line Director at Matcon to find out what he would recommend to manufacturer's looking to speed up their pharmaceutical tablet manufacturing and increase production without compromising on quality.
The key pinch points that slow down your tablet manufacture are detailed below, alongside the solutions that Richard recommends.
Collecting tablets
Most of the facilities that request our advice typically start with the same issue. They have two or more operators continually filling and tagging, which uses countless drums, each requiring a plastic bag, tag and label which need to be cleaned. The whole process is extremely time consuming and cost inefficient.
The solution is simple. If you adapt your operation by using an Intermediate Bulk Container (IBC), only one operator is required. There is no tagging and the IBCs are quick to position and fill. Additionally, as there is no need to clean all those drums or bags to be disposed of, the process is considerably more efficient and waste free.
Feed to Coater Stage Savings
Traditionally, the standard method for feeding tablets to the coating stage takes about 30 minutes to manually fill, if repeating the same process of tipping drums. In comparison, transferring to an IBC takes a matter of minutes.
Empty Coater Stage Savings
Some tablet manufacturers may take about 50 minutes to discharge their product after the coating stage. Whilst this doesn't sound excessive, when you consider that with an IBC this will only take about 10 minutes, considerable periods of time can be saved during a whole day's production shift (if tagging and labelling 20 kilo bags).
Cleaning Savings
From the drums to the conveying equipment, traditional tablet coating methods create multiple cleaning points. By comparison, with an IBC system, only one IBC needs to be cleaned per batch.

We've identified these four key areas (outlined above) where tablet manufacturers can recognise efficiencies in costs and time, but there are more benefits that can be realised by moving to IBC based tablet manufacturing.
Why Matcon IBCs (Intermediate Bulk Containers) Are Designed for Tablet Pharmaceutical Production
Polyethene IBCs protect tablets and are expertly designed to reduce breakages marks or dents

Matcon Cone Valve IBCs and Discharge Stations allow for a soft, slower discharge to protect tablets.

IBCs are contained and sealed which reduces contamination/hygiene risks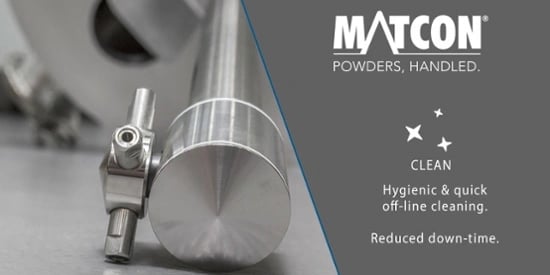 Why Choose Matcon as Your Tablet Processing Equipment Supplier?
In our 35+ years' experience helping our Pharmaceutical manufacturers remain competitive, we have gained a unique understanding of the challenges faced in what is an ever-changing industry. We consider the limitations of your specific materials up and downstream. If our technicians have not yet encountered your ingredients, we have the capabilities to test your actual materials in one of our global testing facilities to optimize your process.
If you have a specific tablet handling problem or would like more information on any of the production issues discussed here, you can contact the Matcon Pharmaceutical team.