This year's Foodtech Packtech was New Zealand's largest food manufacturing, packaging and processing technology trade show with over 5,700 delegates attending the 3 days. Now in its 20th year, the event brings together professionals from across the food manufacturing and materials handling industries to share knowledge and expertise to help grow the industry on a local and global basis.
This year the Matcon team from South East Asia exhibited across the 3 day show. We spoke to Matcon General Manager and Business Development Director Dave Newell to learn more about Foodtech Packtech 2018.
How was this year's show, what are your general thoughts on the event?
This year's show reflected the growth of the event over the past 20 years. The exhibition was good, it was laid out well and well attended. The mix of exhibitors covered the wide range of products that now supply manufacturers in the food industry. It was good to see that the show was well attended, with over 5,700 delegates attending the 3 days.
As the show targeted the local food industry, most of the attendees we met were all local food companies from New Zealand. We even received an order directly from the exhibition just three weeks after meeting at the show!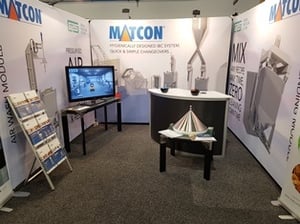 What were the products and services that generated the most interest at the show?
As always, delegates wanted to learn more about the powder handling capabilities of the Matcon Cone Valve and our approach to blending powders using tumble blending.
One of the key areas of interest at the show was safe allergen handling, something that our IBC systems enable, as they allow for contained processing and transfer, reducing the risk of contamination.
What were the common challenges being faced by delegates?
We did meet a range of delegates at the event such as Engineers and Business Directors but most were facing similar issues with dry powder blending. It was good to be able to discuss this further and demonstrate how Matcon equipment allows for homogenous mixtures to be blended efficiently. This was an appealing solution to many of the delegates that we spoke to.
As the needs of the market develop In New Zealand how can Matcon continue to support manufacturers?
Many manufactures are looking to process small batch sizes and add in more variety, which is something that we can assist with. Different sized IBC's and IBC Blenders can be used to improve hygiene standards, something that the dairy industry requires.