Leading food producer, Multitech Foods Manufacturing, has saved over one hour of production time per batch by implementing Matcon's Intermediate Bulk Container (IBC) System.
Introducing - Multitech Foods Manufacturing and their requirements
The parent company of Inthaco, OJ Squeeze and OJ Natural, Multitech Foods Manufacturing identified a need to streamline and improve the efficiency of their production line, due to an increased consumer demand for more product and diverse batch sizes. Their old process meant that each product had to have its ingredients milled, before being loaded onto a blender, sieved on discharge and then transported to the packing line. Each of these processes took place one after another, resulting in high levels of equipment and operator downtime, as well as only producing small batches due to the limited capacity of the blenders.
To meet the demands of the changing market, Multitech Foods Manufacturing understood that they needed to identify an effective and flexible manufacturing solution, that was both efficient and production focused, to address the downtime caused by recipe changeovers and a coupled system. What they were not prepared to do was sacrifice their highest standard of quality.
How the Matcon System improved productivity
Matcon's IBC System decoupled their manufacturing process, creating a more intuitive and flexible production line. Without the constraints of a fixed system, production processes could now take place simultaneously, allowing multiple batches to be manufactured simultaneously. As well as this increased capacity, the sealed and portable nature of the IBCs eliminated the need to clean equipment between batches, as ingredients remained within their designated container throughout the entire production process. Instead, IBCs could now be cleaned quickly and easily once they had reached the end of a production line and were offline.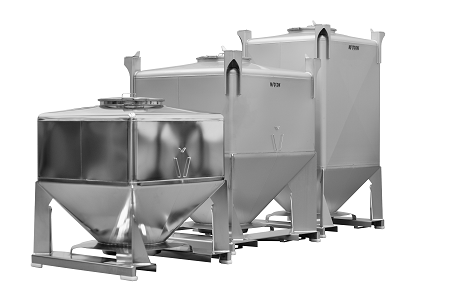 "Matcon's IBC system has enabled us to save over one hour of production time per batch - a significant saving when producing ten batches per shift." - Pasawat Woraphechaiwat, CEO
The newly decoupled system gives Multitech Foods Manufacturing the technology to successfully meet the demands of the market, as well as providing the possibility for the manufacturer to expand into new fields:
"The contained system was an important factor that ensures high speed recipe changeovers which have led to an increase in production rates and even opened us up to venture into other industries, such as dairy. The set-up and commissioning of the system has been a huge success."
Improved productivity without sacrificing quality
As a global food manufacturer, it is essential that Multitech Foods Manufacturing meet the required hygiene standards of consumers and that their production processes are executed in-line with international regulations. This need for adherence to multiple regulations and controls is taken very seriously. As Multitech Foods Manufacturing use a selection of natural ingredients to create their recipes (including some that contain allergens), all of their production processes are fulfilled using closed systems to evade waste and batch cross contamination.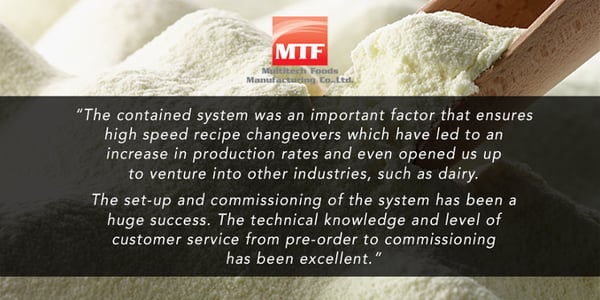 The Matcon IBC System
Matcon's Cone Valve IBC System is a unique decoupled solution that provides manufacturers with full control of their product manufacturing throughout the production process. Its patented Cone Valve technology provides optimal control over powder mixes via the integral cone vibration. This technology promotes mass product flow, eliminating issues such as bridging and segregation, by promoting flow from the outsides of the container, ensuring a consistent end product.
Along with the systems superb powder handling capabilities, the transportable nature of the IBCs means that powder formulation can take place without disrupting the downstream production line, and cleaning can be performed once a container is offline, avoiding the costly downtime often associated with traditional coupled systems.
To find out how Matcon's IBC System is helping manufacturers worldwide to improve efficiency and profitability, including the full process that helped Multitech Foods Manufacturing, download the case study below.