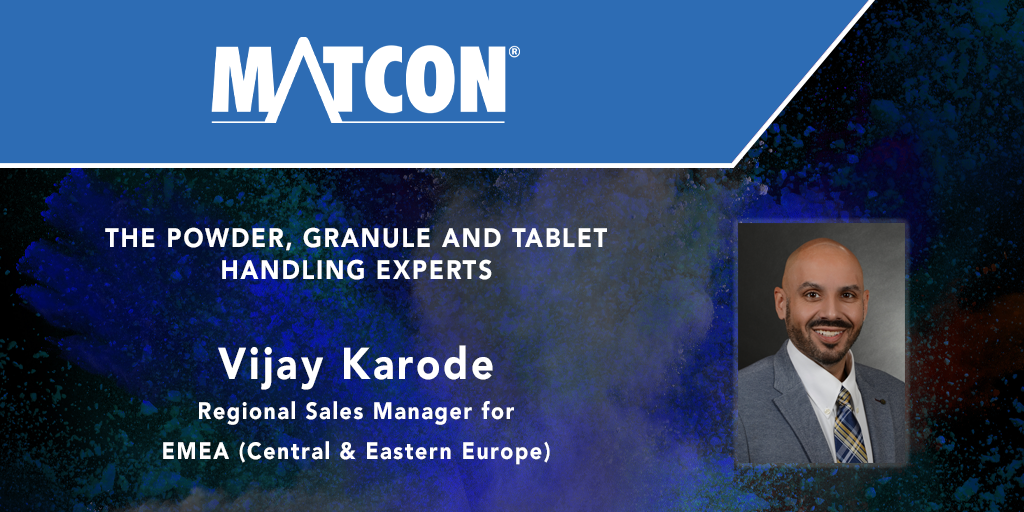 In this article, we welcome Matcon's new Regional Sales Manager - Vijay Karode.
Hi Vijay, tell us about your new role with Matcon
"As Regional Sales Manager for EMEA, I will be focussing on Central and Eastern Europe. My primary responsibility is to engage with customers in a collaborative manner to develop solutions for their key challenges. It will be critical to my role that I maintain an adaptive, growth-oriented mindset which approaches challenges as opportunities."
Our team prides itself on solving powder handling problems for new and existing customers. How can you support them further?
"By focusing interactions on their needs and wants. Communicating to learn rather than to respond is key to really building the trust that leads to strong customer relationships. The greatest compliment you can receive from a customer is that they feel you understand what they are saying, and they trust you to propose a system that can meet their needs."
What has been your career experience to date?
"I come from the upstream Oil and Gas Industry, spending over 13 years working for Halliburton Energy Services in their Completion Tools division. This included various roles from operations to business development to product management. This really gave me opportunities to move around the world taking on different challenges that let me help grow our business as well as my skill set. For the past 2 years, I have been based in Germany at National Oilwell Varco in a technical sales role."
Why should manufacturers choose Matcon as their powder handling partner?
At Matcon, our goal is not to sell you a piece of equipment. Our goal is to provide a solution that delivers value to your organization, whether that comes from increased operational efficiencies, cost reductions, or greater safety. We get to that point by collaborating with our customers. If we say we are the premier supplier of powder handing solutions it sounds good, but when our clients say it, that creates a real impact.
Speak to Vijay - arrange a call
If you want to request a call back from the Matcon team or to set up a meeting with Vijay please get in touch via our contact us page.