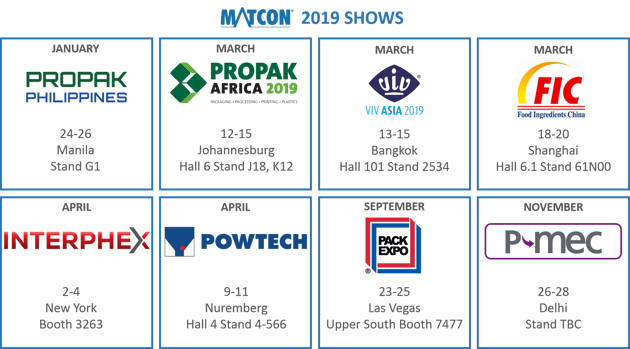 We are looking forward to attending a range of exhibitions across the globe in 2019. If you are planning to visit any of the following exhibitions then please come and meet the team to learn more about Matcon's Powder Handling Capabilities.
Whilst our stands may be geared towards a certain industry that relates to the exhibition, you will be able to speak to our team of experts and see how we help companies to improve their manufacturing effectiveness with flexible and agile IBC systems.
This year we will have equipment on the stand and a range of case studies and brochures to take away with you.
Learn how Tumble Blending using IBCs removes the onerous cleaning process associated with traditional ribbon blending.
Find out how Cone Valve technology in each IBC successfully overcomes a range of powder handling issues.
Discover how Intermediate Bulk Containers enable manufacturers to safely process a range of recipes and batch sizes without cross-contamination issues.
To learn more about these events or to arrange a meeting with a member of the Matcon team then please contact us.
We look forward to meeting with you in 2019:
ProPak Philippines
24 - 26 January
The International processing and packaging trade event for the Philippines.
ProPak Africa
12 – 15 March
Rethinking the future of packaging at Africa's ultimate packaging, food, processing, plastics and labeling.
Viv Asia
13 – 15 March

An exhibition for food producers, offering the opportunity to meet up and discuss the latest trends and methods for effective manufacturing.
Food Ingredients China (FIC)
18 – 20 March
A highly anticipated food additives and ingredients event for China, taking place in the national exhibition center Shanghai.
Interphex
2 – 4 April
Interphex brings together pharmaceutical professionals to share knowledge, best practices and review the latest cutting-edge technologies needed to develop and manufacture quality products.
Powtech
9 – 11 April
The world's number one event for powder, granule and bulk solids technologies.
Pack Expo
23 – 25 September
Pack Expo joins packaging suppliers with end users from every vertical industry. The 2019 event aims to be the largest, most comprehensive packaging event of the year.
P-MEC
26 – 28 November
Returning in 2019 as part of India Pharmaceutical Week, P-MEC India will be held for a second year in Delhi and attract visitors to discuss the latest innovations in the Indian Pharma Industry.